Sports Fans Are Going Wild Over This Hot New Market
Posted November 16, 2021
---
It was 1:30 p.m. on a lazy Sunday. The sun was out and the weather was perfect, and so I settled back into my chair to enjoy a glass of spiked iced tea. But before I could finish a single sip, the 71,000 strangers sitting around me suddenly leapt to their feet, screaming at the top of their lungs, the air reverberating around me with a thunderous roar. My moment of peace was interrupted. So what else was I to do? I stood up, hoisted my drink in the air, and joined in the fun.
I was in the Baltimore Ravens stadium, watching as quarterback Lamar Jackson would lead his team to an unexpected 34-6 win against the LA Chargers. The two-hour game flew by in what seemed like minutes, and even though I'm not a regular Ravens fan, I couldn't help but be swept into the magic of a hometown sports victory. It was only after the game was over that I realized my voice was hoarse from joining in the cheering.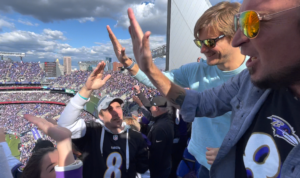 At the game with me were fellow Outsider Club colleagues Alex Boulden and Jimmy Mengel. Part of our reason for going was to see for ourselves how the sudden rise of online sports betting has affected live sports (a great excuse to get out of the office, right?). And I have to say, I was surprised. At the Ravens game, sports betting was everywhere I looked. We were inundated with messages... on billboards... in printed flyers... announced allowed over the loudspeakers.
I snapped a photo of one of the many ads we saw during the game.

Now, I've been following the rise of sports betting for over a year now. But here's why I was so surprised to see such outspoken messages in the Baltimore stadium: Sports betting isn't legal yet in Maryland!
While favorable laws have been passed, none of them are even scheduled to take effect until 2022 at the earliest. But that hasn't stopped this hot industry from planting the seeds for future business.
Truly, online sports betting has taken the field much faster than anyone expected. Legalization wasn't even possible until mid-2018, when the U.S. Supreme Court overturned its longtime federal ban. In the short time since, states have raced to legalize. It's not hard to see why — New Jersey alone has already made more than a billion dollars in tax revenue in its first year.
You'll Never Be On The Inside!
So join Outsider Club today for FREE. You'll learn how to take control of your finances, manage your own investments, and beat "the system" on your own terms. Become a member today, and get our latest free report: "Your 2 Best Bets With Gambling Stocks."
After getting your report, you'll begin receiving the Outsider Club e-Letter, delivered to your inbox daily.
It's now fully legal in 22 states. Another 25 states are on the way (including Maryland). But forget laws for a second... What also caught my attention was the level of engagement. The fun sports betting apps bring a whole new way to interact with the game. Bookies, seedy casinos, cigarette smoke, back-alley wagers... all of that is now a thing of the past. It's now something anyone can do, right from their phone. Which is why more than half of America bet on the Super Bowl this year. That's 165 million people! I can't remember the last time so many Americans agreed on something. There's a good chance you're one of them — I know I am.
While I'm not always the biggest sports buff (or gambler, for that matter), why not throw in $20 to get in on a piece of the action? I live in Virginia, where it's now fully legal, and so I've gotten a taste of what's ahead for everyone else. It's easy. It's engaging. And I have to admit: It's fun.
And it's going to make a lot of money for investors who buy shares of the right sports betting firms. They're making billions upon billions in revenue by charging fees on each winning bet. All told, it means that sports betting apps are quickly becoming the most profitable apps since the beginning of the mobile revolution.
We've already seen how big-name companies like DraftKings (NASDAQ: DKNG) have used the fan fervor to make 500% gains in less than 10 months. Or the Stars Group, which made 518%. And early leader Amaya, which ran up an impressive 2,600% as it released the first betting apps. But I suspect we're going to see even bigger runs as this brand-new market matures.
So... what should you be buying now?
I know for my part, I'm putting my money into several of the companies covered by my colleague Jimmy Mengel. He's an expert at making huge gains on new, emerging markets. He certainly proved it during the cannabis boom — where he was picking early winners far ahead of the legalization curve. The moment state legalizations took place, the investors who followed his advice were able to make as much as 3,220%.
How do I know? Because I was one of them! This isn't just a shameless plug for Jimmy's expertise. I was able to personally make more than $25,000 on his cannabis recommendations alone. One of those stocks, Aurora Cannabis, made me over $10,000 in just 10 days.
In short, I'm a true believer in Jimmy's ability to find profitable stocks in a disruptive new space. I'm looking forward to what's ahead — his list of sports betting stocks could well be one of his most important finds yet.
Because while DraftKings and the other big stocks have a lot more room to run, the biggest gains will almost certainly come from a smaller group of companies that haven't gotten as much attention just yet. They're holding the platforms, technology, and patents that are making the whole show possible. Now that they're grabbing so much market share, there soon won't be a way to place an online bet without them.
I urge you to watch Jimmy's new presentation on sports betting, where he reveals the three small sports betting firms with an edge on this hot new market.
With so many new states about to legalize (including New York and Maryland), this $516 billion industry has a lot to cheer about. But truly, the celebration is just beginning.
Make it your own,
John Carl
John Carl is a regular contributor to the Outsider Club and a financial analyst based in Charlottesville, VA. His financial career began in 2009, when he made early successful calls on Netflix, Chipotle, and Green Mountain Coffee. Today he covers precious metals, cannabis, technology, cryptos, and biotechnology. You can follow John on Twitter.
You'll Never Be On the Inside!
So, join Outsider Club today for FREE! You'll learn how to take control of your finances, manage your own investments, and beat "the system" on your own terms. Become a member today, and get our latest FREE report: "Three Big Profit Opportunities in Solar"!
We never spam! View our Privacy Policy
After getting your report, you'll begin receiving the Outsider Club e-Letter, delivered to your inbox daily.