Your Last Opportunity Ever to Invest Before the Final Gold Bull Market Begins
Posted August 14, 2019
---
Venture Capitalist Quintupled Readers' Money
During Gold's Bear Market
Now Claims...
"Here's Your Last Opportunity Ever to Invest Before the Final Gold Bull Market Begins"
Today, you'll:
Discover his five catalysts to launch gold stocks 371%, 322%, even 489% in just a few months
Meet this seven-figure venture capitalist, plus his friend — an $800 million investor with a secret about gold investing
Get exclusive access to his #1 unknown gold stock that could make early investors extremely wealthy
He's so confident, he's giving gold away starting today (see below)
---
Hi. My name is Gerardo Del Real.
You're joining me at one of the most urgent times in the 5,000+ years humans have mined gold. Because, as we speak, new gold findings are hitting historical lows.
S&P Global claims discoveries have become "increasingly harder" for gold companies.
The price to mine gold has skyrocketed over 412% in just the past decade. This has caused massive chaos in the gold sector.
McKinsey reports that "reserves by major gold companies have declined 26% since 2012 and are now below 2007 levels."
Right now, only 5% of all mining projects ever get developed, leaving less and less gold available.
I myself am a mining investor. I've dedicated my entire career to the mining space, including consulting billionaires and high-level investors.
I've seen firsthand the impact on the entire gold space with companies going belly-up because costs are too high and output too low. Meanwhile, investors are left holding the bag.
Most of Wall Street and America have long written off gold as a way to make a fortune. Maybe you have yourself.
However, I'm about to introduce you to one of the most interesting gold investors and venture capitalists I've ever met.
His name is Nick Hodge.
And he's about to make the boldest claim of his career.
He believes we have quietly entered a short window of time for you to invest before gold turns from bearish to bullish.
"It's the final gold bull market" he claims.
Nick believes early investors could land six-figure windfalls in the next decade. But the time to invest is now.
You won't have to purchase any gold bars...
You won't have to wait for a stock market crash...
And, you won't need to wait for gold to shoot up to $10,000/oz like the gold bugs claim.
Simply buy the right gold stocks today. One gold stock in particular... Nick's #1 stock opportunity of the decade in gold... could be life changing for your portfolio.
I've known Nick for many years. He never makes a bold claim like this without backing it up. And Nick holds quite the track record in gold.
In fact, readers could've quintupled their money thanks to his recommendations... and that's when gold sunk into a bear market for most of the past decade.
Nick's banked more triple-digit winners in gold than anyone I've ever seen.
In just gold alone, Nick's landed readers gains of:
489% in Azucar Minerals
322% in Ivanhoe Mines
100% in Atlantic Gold
371% in Almaden Minerals
121% in Midas Gold
159% in Golden Arrow Resources
170% in Revival Gold
103% in Palamina
121% in Roxgold
156% in Millrock Resources, and an amazing
531% in K92 Mining
That's without leverage, options, or buying gold bars.
He simply pinpointed the exact moment to invest and shared it.
A mere $50,000 into each of these would amount to an amazing $1,321,000. And this would happen in a few short years.
Again, all during what experts termed a "gold bear market."
However, Nick believes today... right now... is the greatest opportunity he's ever seen to invest in gold.
Gold's turning bullish and he's alerting our team.
And that's what makes this presentation so important for you today.
Nick will unpack mountains of research he's never shown before. So you couldn't have joined us at a better time.
In the next hour, you'll discover:
Nick Hodge's five catalysts in gold that prove gold is turning bullish
The #1 gold play of the next decade from Nick's research that could hand you a fortune
The main reasons you and those you know haven't gotten rich from gold yet
Nick's shocking guarantee you will accomplish this
Plus, as a surprise bonus, Nick has invited one of his prestigious network connections to join us. This investor is worth over $800 million and he will share with you and I his private thoughts on gold
And there's much, much more to see.
He's so confident in gold, he will give you an opportunity to earn free gold today.
Meaning, he'll package up actual gold and ship it to your house.
Even if you're skeptical about gold and you've heard hyped up claims about it in the past... I promise you'll think differently about gold after you hear what this mining expert says.
Now, let me introduce you to one of the most interesting investors I've ever met, Nick Hodge.
GERARDO:
Nick, thanks for joining us.
NICK:
Thanks, Gerardo. This is a very urgent time for gold, so I'm glad we're getting to do this.
GERARDO:
I want to share more about your background in a minute because it's pretty impressive.
But let me just come out and say it. We've had gold bugs chirping about the yellow metal going to $10,000, $20,000/oz for a decade, maybe more now.
As you and I know, gold and metals have lingered in bearish territory for the past seven to eight years.
Let me ask you straight... Are you another one of these overly optimistic gold bugs?
NICK:
You're not going to go easy on me are you, Gerardo?
GERARDO:
Hey. My career's in mining stocks. So I just want to know what side of the fence you're sitting on.
NICK:
Alright. I gotcha. I'm actually not a gold bug. I'm an opportunity seeker. In fact, a few of those winners you just rattled off weren't actually from being bullish on gold. A few, I was actually shorting gold.
NICK:
The...
159% in Golden Arrow Resources
170% in Revival Gold, and the
531% winner in K92 Mining
Plus, a few others. Those profits were made during a time I was execting gold to go down, not up
GERARDO:
Ok, so you're not a gold bug.
But, you believe a new gold bull market is starting.
NICK:
The last one in our lifetime, actually...
GERARDO:
The last gold bull market.
Why do you say this will be the last one?
NICK:
A few reasons actually, Gerardo. For starters, you already mentioned supply sits at historical lows.
You shared the numbers. For anyone listening who is new to the mining arena, mining for not just gold, but anything: silver, uranium, lithium, it's extremely expensive and requires a ton of capital.
Miners are throwing in the towel and leaving because there's less gold being found. Discoveries are down nearly 83% since their highs.
So supply is being squeezed on the one side.
On the other side, demand is quickly ramping up with frantic buying by people in Venezuela, Turkey, and other countries that are facing currency crises. That's been in the news.
But also, the central banks. They're buying up gold at the fastest rate since World War II, according to Business Insider.
Plus, some of the world's most powerful countries are investing, too.
China has increased its gold supply 210% in the past decade.
Russia quietly boosted its supply 388% since 2006.
Countries and central banks are squeezing demand on the other side.
Meaning, supply is being squeezed at the same time demand is ramping up. Think of it like a balloon. You squeeze one end, air is forced to one side. Squeeze both ends of a balloon at full pressure, what happens?
GERARDO:
It pops.
NICK:
Exactly. It explodes. That's what's happening now.
This chart shows the squeeze.
There's so much pressure on gold at the moment due to supply crunch.
Pierre Lassonde, a billionaire who also was former head of Newmont Mining, said:
If you look back to the 70s, 80s and 90s, in every one of those decades, the industry found at least one 50+ million-ounce gold deposit, at least ten 30+ million-ounce deposits, and countless 5- to 10-million-ounce deposits.
But if you look at the last 15 years, we found no 50-million-ounce deposit, no 30-million-ounce deposit and only very few 15-million-ounce deposits.
So where are those great big deposits we found in the past? We don't know.
That's pretty haunting to hear. Supply is dangerously low.
The only thing left is for gold's price to shoot up at any moment.
When I say 'any moment', I mean it could be next week or next month. It'll be a surprise to everyone.
When this billionaire asks where the "big deposits" are, I believe I've found where some of it is. I've uncovered a small, unknown company that holds over 20 million ounces of gold reserves collectively, and it's expanding at light speed.
The point is the supply problem is just the tip of the iceberg. There are five more catalysts causing this gold rush to jumpstart this bull market.
GERARDO:
You're so confident, you are giving away gold today to those who listen.
NICK:
That's right. If you listen to the very end, I'll show you how you could get free gold shipped to you.
GERARDO:
Incredible. That's a lot of fun.
On that topic of physical gold, should investors go out and buy gold bars at those "We buy gold" places?
NICK:
You can. But that's not where the wealth will come from. I have a few bars and coins myself, but more for security. Plus, it's cool to have them. However, it's hard to get rich with bars unless you invest hundreds of thousands of dollars, which I don't recommend, and which most people don't have anyway.
Gold would need to skyrocket 10-20X to make a ton of money with a smaller account.
You talked about the gold bugs plugging $10,000, $20,000/oz gold. I can't comment on that as it's never happened
But what I do know is that gold stocks can absolutely explode when gold moves in a positive direction — even if it moves a tiny bit.
When gold went up 24% in 2011-2012...
Kirkland Gold jumped as high as 722%
McEwen Mining shot up over 1,768% from its 2008 lows
Iamgold ran up 601% during the same timeframe<
That's why I'm urgently recommending viewers to move capital into my #1 gold stock pick. It has more upside than any other metal stock I own.
Analysts see a 450% spike already. But it could go a heckuva lot higher.
#1. It's trading for very cheap now. The bear market in gold pushed the price down way below what analysts believe it's worth.
It trades around $1 right now.
#2. The company is quietly buying up mines at a rapid pace. It has a unique strategy I'll share that's allowing it to acquire mines for up to 90% off. So you can imagine, when gold prices move up to even just $2,000/oz, this stock will absolutely rocket higher.
GERARDO:
Is this a stock you can retire on? Should I be moving the bulk of my portfolio into it?
NICK:
Absolutely not. As much as I'm confident in this play, I never recommend moving all your chips into one play. Don't listen to anyone who tells you to do that.
At just around $1/share, you could put in $25,000... $50,000 and you could potentially make many millions.
Currently, this company is valued at around $200 million.
Compare that to some of the larger gold companies, that's a drop in the bucket.
Barrick Gold's worth $23 billion
Newmont Mining's worth $19 billion
Goldcorp is worth $10 billion
You put my #1 stock up against these, and the runway is as high as 11,400%. $25k would become $2.8 million with that return.
GERARDO:
But those companies are larger, so they'll be worth more.
NICK:
They are. But this gold company is so unique. It's acquired many assets recently, if you totaled all its gold reserves together, it'd have one of the largest deposits in the world.
But it has nine projects, so it's all split up and thus under the radar.
You google "largest gold deposits", it won't pop up because it's spread out over multiple mines.
It's a perfect setup.
I'll show you a different way to look at it since you want an apples-to-apples comparison. I mentioned the runway is as much as 11,400%.
Actually, it could be bigger.
I mentioned briefly this company has gold in reserves that total more than 20 million ounces.
Barrick gold has 62.3 million in reserves as of December 2018.
Newmont had 65.4 million in reserves in 2018.
Goldcorp has 52.8 million.
If we take the average price of gold the past few months... $1,300... multiplied by the amount in reserves...
Then compare that to the market caps of these companies, here's what we get:
Barrick should be valued 3.5X higher based on its reserves.
Newmont 4.5X higher
Goldcorp 6.9X higher.
The #1 stock I'll show you...
Looking at its reserves vs. its market cap...
It should be valued 191.6X higher.
19,160% when looking at its potential.
If you want to think of that in terms of dollars, $10,000 would become $1,916,000 at that multiple.
GERARDO:
Wow!
And your #1 stock could create a fortune for those who invest right before this final bull market starts.
NICK:
Many, many multimillionaires will be created. I'll show you the five catalysts that will kick it all off.
GERARDO:
You've already shown readers many profitable plays already.
One guy by the name of Dan L. wrote about one of your recent recommendations...
I made over $100,000 with you on the first run [of a stock] a year or so ago...
Donald M. shared his story too, saying:
I did very well on two picks. Pretty lucky with a profit of $27,649!
And Anthony R. recently wrote to say:
[Three picks] have been triple-digit winners for me.
But my favorite is from Tom D., who made nearly half a million dollars on a single trade:
My account is now over $450,000. Happy with the gains so far!
NICK:
I have more of those stories to share later.
And if you don't want to take my word for it or my readers', I brought along a friend. He's worth an estimated $800 million. He's one of the most prominent investors in South America, with connections across the globe, including to the Rothchilds. He'll give you his unfiltered take on it all.
GERARDO:
That'll be coming up in a few minutes. How'd you meet him?
NICK:
We crossed paths in New York at the Carlyle Hotel... I was invited to hear a speech at NYU by the former Vice President of Brazil, Michel Temer, who this gentleman was close with. He told me stories about hanging out at the Carlyle with the likes of JFK and Marilyn Monroe in the 60s. If you don't know Temer, he ended up becoming President of Brazil after Dilma Rousseff was ousted.
GERARDO:
You've met a lot of people like that.
NICK:
Yeah, I've been pretty fortunate. I've met folks from all over the map. I've hung out on Ted Turner's private boat talking with him about cleantech in the early days of solar, pre-2008 crisis. Talked with John Paulson at a private dinner in Puerto Rico. He's worth $5 billion and called "one of the most prominent men in finance." Met platinum-selling country singer John Rich, the frontman for multiple-Grammy-nominated Big & Rich. He's promoting a liquor line I'm invested in.
On the more metals and energy side, I sat down with Spencer Abraham, who was the former Secretary of Energy under Bush. We chatted about uranium, which I've had a lot of success in.
Met Rob McEwen, who founded GoldCorp, which he grew from nothing to an $8 billion company. That made him a billionaire.
He believes gold will hit "$2,000" ...then, in a few years "$5,000" per ounce. He's very bullish.
I also know well and invest alongside Rick Rule, who is creeping up to billionaire status in the mining space. He and I agree about gold. He recently claimed "$1,500 gold wouldn't surprise him" this year.
That's a 15% jump which could send gold stocks up overnight.
GERARDO:
You've also made a name for yourself. You've been a featured speaker at MoneyShows on gold, uranium, mining. Your name is also on the cover of two books, Energy Investing for Dummies plus Renewable Energy: Making Money on Green Chip Stocks. Both 4-5 stars on Amazon.
You're also a frequent guest on shows like Business News Network, Yahoo!'s Daily Ticker, Newsmax TV, and others.
You've raised over $30 million in capital for companies, including those in the metal space.
But, you've also made some bold predictions in the past.
One reader, David, wrote in telling us you were his favorite editor because your predictions were almost all right.
Another reader, also named David, says:
"Nick had (and still has) an uncanny ability to pick the early, unforeseen, "diamond in the rough" stocks that had generated my Father/Grandfather a lot of wealth. He is the reason that I got into the Market in the first place."
That's a life-changing testimonial based on your predictions.
Let's talk about those predictions for a moment.
First, you invested in electric cars before Tesla became popular. BYD Auto in China is an electric car company and manufacturer. Buffett took an early stake and you joined him. In 2008, during the Great Recession, the stock popped from $11.36 to $55. That's close to a 500% winner.
NICK:
Electric cars weren't cool yet, so I got a lot of crap for that pick back then.
GERARDO:
Obviously, it worked out. Then, in 2012, you predicted 3D printing would generate buzz on Wall Street. A company called Organovo 3D prints human tissue for medical applications. You recommended it in August 2012 for $2... sold July 2013... less than a year later, for $7.01... a triple-and-half-your-money-play in less than 12 months.
Also in 3D technology, you were early on 3D Systems and Stratasys. Three plays total in the space.
NICK:
3D printing is still fighting to keep relevant. Key here is we piled in before CNBC started blaring headlines about it every day.
GERARDO:
That's an important point. Because you also predicted a few popular busts.
In 2012-2013, you wrote tens of thousands of words about shale oil collapsing just as oil was hitting around $110 per barrel. Starting October 2014, oil started cratering, bottoming on February 2016 at just $35 and some change per barrel.
NICK:
Oil's working its way back up. But since my readers got out in 2013, I estimate, collectively, millions were saved by my readers who cashed out in time.
GERARDO:
And, finally, crypto. You predicted Bitcoin's price would increase in 2013. At the time, it traded for around $600.
By the end of 2017, Bitcoin ran up to $18,500. A 2,983% bump from your initial recommendation.
But perhaps the more impressive prediction.
On December 14, a small cap newsletter posted a video where you warned about Bitcoin and cryptocurrencies.
That's super interesting, because December 15th was the peak of Bitcoin's price. After the 15th, it absolutely collapsed. Dropping to about $10,000 by the end of January 2018.
That's amazing.
NICK:
I believe there's a place for blockchain and cryptocurrencies, but at that point, it was getting to be more a bubble than an investment.
GERARDO:
It's funny because, in your interview, you correlate gold and cryptocurrencies. Take a listen.
People were scrambling into cryptos because they wanted to get rich quick. Right?
GERARDO:
I'm sure many of the investors watching this don't believe it's even possible to get rich from gold. They've heard of the crypto millionaires, tech stock millionaires, pot, but why aren't more people getting rich from gold if it's such a great opportunity?
NICK:
That's a great question, Gerardo, and I'm glad you asked it.
There are really three reasons most investors won't get rich from gold.
GERARDO:
Sure, let's run through those quick. After you explain these, we'll dive into the five catalysts to fire up the final gold bull market and your #1 stock that could help many watching this collect a six-figure windfall.
Does that work?
GERARDO:
Plus, you have your special guest. An $800 million investor and apparent friend of JFK and Marilyn Monroe, the Bushes, Clintons, and even past Popes.
NICK:
Great stuff ahead, including how to get free gold from me. First, let's talk quickly about the three reasons most investors won't get rich from gold..
They're somewhat misconceptions investors and Wall Street harbor about miners. If this is how you think about gold investing, you'll want to re-think everything.
First reason most people don't become rich from gold, they purchase gold bars and wait for the price per ounce to reach an astronomical height. I touched on this earlier.
Like I said, I own a few gold bars myself. But I don't expect to make millions from the coins in my safe. It could take awhile for gold to appreciate in price. But that's what makes gold stocks such a great play. They're much, much cheaper than buying an ounce of gold.
My #1 stock is around $1. An ounce of gold is around $1,300.
You can pick up 1,300 shares vs. one ounce for $1,300. That's a huge difference. When gold moves 5%, gold stocks could move 25%.
In this case, gold would go from $1,300 to $1,365... a $65 gain.
With shares, your $1,300 would turn into $1,625. A $325 gain. That's 400% more profit.
Stocks are cheaper. And you have a higher shot at returns.
Second, investors aren't getting rich because they don't know what mining stocks they're investing in.
See, mining stocks aren't like Walmart or Apple stock. They aren't companies you can walk into and see if they're running a legit operation.
I'll be honest with you. Some mining stocks are straight up scams. Much like some cryptocurrencies.
That's why it's imperative you know who you're in bed with.
Think of it like buying a house. You get an inspector to double check there are no hidden problems. You pick up an insurance policy to cover any surprises.
With mining stocks, you absolutely need to do something similar. Do your research. And, even better, have boots on the ground making sure everything checks out.
I believe gold is about to pop. That doesn't mean throw a dart and pick any mining company.
You need to study a few factors:
Does the company have cash to fund its exploration?
Are the estimates for how much gold it's sitting on accurate?
How's the local economy feeling about this company?
How's the management team? How're the employees, for that matter? Are they all-in?
Any exaggerations in government filings that raise red flags?
Mining stocks are rarely covered by any Wall Street analysts, so you need to do your own legwork.
My #1 stock has two analysts... Apple stock, for example, has over 40 analysts covering it.
I think Wall Street analysts are full of it, but I do give them some credit. When they watch a stock, companies straighten up a little.
Most mining stocks will fly under the radar, so I've seen some really sketchy companies. They end up going bust.
GERARDO:
Those are good points. When I visit a mining site for my readers, I go through a similar checklist. Three main points for sure.
I check that the company has a good capital structure. It needs to raise capital regularly just to keep the lights on. Is it raising capital at favorable terms for you, the shareholder, to provide liquidity?
NICK:
Good point, Gerardo. If a company pawns off 80% of its shares to some shark, there won't be enough liquidity in the markets for you to get in and out of the stock.
GERARDO:
Exactly. A second checklist point is one you mentioned. Does it have an outstanding management team? And, are the stakeholders happy? Stakeholders are the locals, the employees.
NICK:
What's the third item on your checklist?
GERARDO:
Like we're talking about here, is this company ahead of some trend? A buyout? Or, is the resource it's extracting about to explode? In our case, and we're both bullish on it, gold is about to go nuts. That's a trend.
And this is a perfect transition. When talking about getting ahead of a trend, what five catalysts will help gold make a huge comeback? The gold bugs have said it for years, but as you've said, you're not a gold bug.
NICK:
Definitely not. My readers and I banked many gains the past few years actually shorting gold.
But today, I see five major catalysts about to propel gold into a new and final bull market. I believe it's already started.
If you make the right moves today with just my #1 gold stock, you could be set up for a six-figure windfall. It's a company I've followed for a while, I know the team and its executives. It trades for very cheap.
We already touched on the first catalyst a bit and that's supply.
Remember, central banks, Russia, China, and other countries are rapidly buying up gold. Poland just bought gold for the first time since 1998.
Central Banks are buying at the fastest rate since World War II.
On the other side, mines are producing less gold and the costs are going up. So supply is being squeezed and demand is ramping up.
But there's even more to the story.
The richest people in the world are also pushing their money into gold.
John Paulson, the billionaire I met, made $5 billion betting on gold in 2009. He also made millions shorting the subprime mortgage crisis during the Great Recession.
He has a $1.3 billion stake in the SPDR Gold Trust. For those who don't know, you can find the Gold Trust trading under GLD, and it's one of the largest ETFs around for gold.
George Soros, the man who made $10 billion shorting the pound, recently increased his stake in the GLD by 49%.
Carlos Slim, once the richest man in the world, recently purchased three quarters of a billion dollars in gold and silver mines.
Those are only a few.
Ray Dalio, billionaire and founder of the largest hedge fund in the world, says he always has an "exposure to gold" in his portfolio. In fact, he claims to have 5-10% of his holdings in gold.
He claims "gold should always be a part of your portfolio."
Sam Zell, a man worth $5.5 billion, backs up what we're talking about now. He says: "supply is shrinking, and that is going to have a positive impact on price." And he didn't stop there. He said "for the first time in my life, I bought gold."
So, supply is tanking. Billionaires are buying it. Central banks are scrambling to get their hands on gold. Multiple countries are involved.
Just because it feels like you can walk down the street and pick up gold right now, doesn't mean that's the story tomorrow.
And I've invited a friend of mine... a near billionaire... to give us his perspective on gold.
GERARDO:
Why don't we bring him on now. Take it away, Nick.
NICK:
His name is Mario Garnero.
Mario's a Brazilian banker and trailblazer. He's been called the "Father of the Ethanol Car." During the 1979 petroleum crisis in Brazil, Mario challenged the top four automotive companies in the country to produce one million cars that run on ethanol. Three years later, 90% of Brazilian cars ran on ethanol thanks to him.
He's a personal friend of the Rockefeller and Rothschild families. As well as U.S. presidents including President George W. Bush and President Clinton.
Currently, he's the chairman and largest shareholder of Brasilinvest, the largest merchant bank in Brazil.
Brazil is famous for its mid-century gold rushes, which ultimately produced the largest gold mines in South America.
Mario's had a front-row seat to watch gold opportunities expand in Brazil and beyond.
Let me welcome Mario Garnero on the phone.
Thanks for taking the time, Mario. I know you're a very busy man.
MARIO:
Very good, thank you for your time too, Nick.
I am just following up on your success after our last talk about four years ago... a nice conversation at the Carlyle Hotel in New York.
So this time I am in Brazil, you are in the states, but I am entirely at your disposal for talking about gold.
NICK:
It's funny you mention the Carlyle hotel. The backdrop of that meeting was Michel Temer was giving a talk at a law school at New York University, and you and I met at the Carlyle.
You told me some history about time spent there in the 60s and 70s with people such as the Kennedy family. That just shows the longevity you have in the markets, and connections to powerful politicians and people.
So tell me, from that seat you have, what do you see happening in gold in the next 12-24 months?
MARIO:
I see a very interesting position on changing the mind of the public. The public is still linking gold to inflation.
But when you take the idea of consumption and also from what governments are making as reserves, and on top of that, the very shortage that will be having on gold production for the next 10 years, 15 years.
I am very bullish on the future of gold. And if I may tell you Nick, this is not my only position.
I have been with a good friend, Lord Rothschild, we have been with Naguib Sawiris from Egypt and several others that have the same idea that gold is undervalued for the time being and would be perhaps due to recoup very quickly their position.
So my position today is very favorable. To creat reserves and as Russia's making, as China's making, as India's making... so national governments are having the same position on that.
And if I could give you just one example, Nick, Lincoln when he launched the dollars, the dollar was backed to gold. And if you take today's value, gold represents 70% more than the value of the dollar at that time.
Fortunately, Nixon erased this, otherwise the State's would be 70% more in debt than it is in dollars.
So I continue to believe that the gold is strength. Keeps the value. And would be something that the government would be having as a safe haven for a long time.
NICK:
Do you think the amount of debt in the world is beneficial to gold when you look at various sovereign debts of countries like the United States as well as private debts such as student debt and car loans?
Do you see any sort of debt crisis that could be bullish for gold like we saw in 2007-2008?
MARIO:
Even though I do not forecast a crisis on the dollar or euro, whatever it be, for example, when we are talking about Lincoln or we were talking 1861, 1867, and today.
So if it takes this time, if you kept one dollar at that time, today you would need 1.70 dollars to buy the same dollar. The same greenback.
So the question is that if it takes long run, I think that gold will keep its value in relation to the all other currencies.
For one reason, the currencies are being subject to several political pressures, to several economic pressures, and gold, as long as you are not playing around but just keeping it a long time, you'd be having something more solid down the road.
The public is starting to see this now, as you see for instance in China, or in the Gulf, and in India, and even in Brazil.
NICK:
You've been talking with people in your circles about depletion of reserves and central bank buying, and how you see a bullish spike.
How much do you think gold can grow in price?
MARIO:
I am taking let's say a little bit what McKinsey, what Goldman Sachs, and others are thinking.
I think that they were predicting for last year $1,350 or something like that.
It was not coming to that, but what I believe is the price today with the shortage that will come within the next one year or two years was in the next one year or two years... We are looking for $1,500 per ounce.
But this isn't my personal view. This is what I have heard from substantial people… is that they are investing like Sawaris from Egypt... he's buying all companies on that, Lord Rothschild now he also is investing, other big investors and big companies are thinking the same so I imagine that we are coming to have something like that within the next two years.
NICK:
You're talking about very smart and very wealthy individuals. People with billions of dollars managing large amounts of capital.
What about the regular investor? They might not be looking at gold? Should they?
MARIO:
I think they should be.
When you take the big asset managers, they are always around 10% of the portfolio invested in gold.
What I feel is that when it was a time where you had hedge funds and others making some kind of stratospheric profits that induced the people to say, "Okay, let's go this way."
But when you talk of the middle class, where are they investing? They are investing in India for instance in jewelry, in China in jewelry. Jewelry based upon gold.
So there is an indirect buying of gold or buying of reserves without knowing exactly that they are buying gold for investments.
They are buying gold because they think the jewelry they are buying will be keeping the value down the road.
So I think it's just a question of time when the investors will move back to the gold.
You will recall around 1985, 83… gold at $900, the big jump was at $220 and went to $900 within six months. I do not imagine that would be going from today's value to $1,500 or $1,600 at once.
But I think that inexorably it will come to at least 30% level over today's price, within the next two years.
NICK:
If we think gold is a great place to invest, what's a good way to invest in gold?
MARIO:
I would not buy one bar of gold, I'd rather go and buy one bar in weight equivalent in gold mine shares.
NICK:
So you think that's the best way to capitalize on gold prices rising?
MARIO:
The amount of gold that we have is undervalued and as long as the perception, the public perception, is that gold is moving up or inflation is moving up quicker, you'd be having an alternative.
Okay I buy a bar of gold and leave it at the bank or buy a company that would be expanding, creating value, adding value, and having a backlog of gold as gold miner has.
NICK:
I think it's a smart way to invest, Mario. I appreciate you taking the time sharing what you and your peers are investing in.
Plus, your insight into the gold markets. We covered a lot in a few minutes.
But I have to ask before you go, since I have a gentlemen of your caliber on the line for our audience..
Is there anything else you would like to tell us before we let you go, Mario?
MARIO:
First of all, thank you very much Nick, you have been very precise, very clever in all your comments, and very independent.
So I appreciate the time while talking to you. Not only last time but here today also.
And I think that if we could make a date that in two years we will have lunch together at Carlyle with a beer to see if my forecasts were appropriate. So if not, I'll pay you at least a good pizza.
NICK:
It's a fair deal Mario, I'll put it on my calendar.
MARIO:
Very good, very good, we will be together with great pleasure and we'll have, you bring me the record of this interview, which I will be keeping also with me.
Thank you very much Nick, a great pleasure and thanks again for your time.
GERARDO:
That was quite a surprise and a treat. Thanks Mario and thanks, Nick, for inviting him.
NICK:
Mario is quite the pioneer, and when someone like that is telling me to buy something, I listen.
GERARDO:
He covered a few good points that we will delve into more as we go.
You and Mario have made quite the case for gold. That's why you're confident enough to give away gold today
GERARDO:
Yet, after all that, we've only plowed through one of your five catalysts. We've already seen tons of evidence gold is about to make a big move and potentially create many six-figure windfalls starting with your #1 pick.
What's catalyst #2, Nick?
NICK:
This second catalyst is a bit out of the norm for those who know me. I'm a fundamental investor for the most part, not technical. However, as I saw technical indicators flashing 'buy gold', I put my fundamental bias aside so you can see a full picture on gold.
Take a look at this chart for gold. I only included dates since 1972 when Nixon knocked us off the gold standard.
This chart is adjusted for inflation, just fyi.
Most technical analysis would agree that gold is on a steady uptrend from the floor. Meaning, the lowest gold could go will always be higher than the last bottom.
We watched as gold retraced from an inflation-adjusted $2000/oz down to $400 while the stock market ripped higher in the 80s and 90s.
Then, the stock market bubble burst and we saw a bull market in not just gold but in all metal and energy stocks. Gold galloped to similar heights as we saw during the 70s when the stock market was sluggish.
Now, the stock market has more than tripled since 2009. So, you would think we would see a lowering to a new bottom of gold. With my rough drawing, perhaps around $600/oz.
Instead, gold has stuck a landing and is bouncing around between $1,200-$1,300.
Something is going on here.
GERARDO:
That's interesting. Because gold is usually correlated against the stock market. Sam Zell called it a "hedge." When stocks go up, gold should sink and vice versa.
But, we've seen one of the longest and arguably the most robust bull markets in stocks ever in history from 2010 onward, yet gold isn't backing down.
NICK:
We're in a consolidation period. I believe what's keeping that gold price up is all that gold buying going on plus the decreasing supply.
Here's a closer look from when gold bottomed in 2000. Check out this pattern.
Technical analysts call this a triangle 'wedge.' This is a bullish sign because the price gets squeezed and then pops.
I want you also to notice the volume on the bottom. Notice how volume has dramatically increased in the past decade.
Volume equals interest. A lot of volume essentially pushes prices higher because there's so much buying and selling.
That's one point of technical analysis.
The next is more short term. We saw long-term outlook bullish. Short term is bullish as well.
Here, the 50-day moving average — the black line — crossed over the 200-day moving average. That means pricing in the past 50 days is higher than the 200-day average.
That should provide us some momentum to the upside, which makes this report even more urgent today.
GERARDO:
Meaning, don't wait a few months to see what happens, buy now.
NICK:
Correct, because investors love momentum. Momentum, like volume, means interest. Most investors rubber neck at what everyone else is doing. Think Bitcoin again.
When momentum is on your side whether gold or a stock, it's a good time to buy.
GERARDO:
Up to now, we've looked at two catalysts. Number one, supply is shrinking coupled with massive buying from countries, central banks, and the rich.
Number two, the charts are telling us the price of gold technically has to go up.
NICK:
Those are just two of the catalysts that could hand you thousands if not hundreds of thousands starting with my #1 stock.
Remember, I showed you with its reserves, it could be worth up to 19,160% more.
That's obviously the best-case scenario, but you see the potential.
The rich can buy gold bars because they have the capital. If you aren't sitting on eight or more figures, you're better off grabbing leverage with a solid gold stock.
GERARDO:
What's the third catalyst?
NICK:
This third one is interesting. Did you know outside the U.S. currency, gold is officially calculated at its highest price ever in other currencies?
GERARDO:
What do you mean?
NICK:
Take a look.
Here's the price of gold if you bought in Canadian or Australian dollars.
Notice, even with the spike in gold in 2011 where it hit all-time highs in the dollar, it's not in other currencies.
For reference, here's the dollar chart.
Here's a chart with the Japanese yen, the Mexican peso, and the South African rand.
The rand and peso easily hit all-time highs and the yen is knocking on the door.
In 72 currencies, gold's price is climbing even while, in dollars, the price remains steady.
So the dollar is obviously holding its value much better than some of the top currencies in the world.
Here's where the story gets interesting.
Typically, when the dollar is strong, gold is weaker and vice versa.
Here's a quick 20-year chart to show what I mean.
The orange is dollar value, blue the gold price.
When the dollar surged after 2000, gold was way down. That switched when gold had a massive run up after the 2008 recession and then the dollar was beat down to 20-year lows.
Today, the dollar is up near 2000 levels again, so you'd think gold would sink back down to maybe not $400, but $800 at least, right?
Instead, it's holding its value.
GERARDO:
That technical level you were talking about.
NICK:
Right. There's a supply squeeze as we've talked about. However, the dollar is hitting a peak again.
Look at the chart again.
Lower highs.
Lower lows. And volume is declining to boot.
Stay with me here, I'm not trying to get too technical, but this is important.
Gold should be down as the dollar is up, but there's the supply squeeze.
On the other side, the dollar is one of the strongest currencies in the world. At least, it's the most used. In 2018, here's a look at the most traded currencies.
The dollar outstrips all others.
And more and more dollars continue to be pumped into the system.
Here's a look at the last 40 years from the Federal Reserve Bank in St. Louis
Oversupply will cause the dollar to lose value. After all, it was the most valuable in the 80s when the money in circulation was lowest and now it's trending downward as circulation goes up.
And circulation should go up sharply in the next few years.
GERARDO:
Because of low interest rates from the Federal Reserve?
NICK:
That's one reason. The Federal Reserve's balance sheet is 5X bigger than before the 2008 recession.
But the other reason is countries dumping U.S. Treasuries.
Both Bloomberg and Business Insider broke news that Russia was dumping U.S. Treasuries.
And it's using that capital to purchase gold.
Russia's dumped 84% of its dollars.
Here's a chart from CNN.
China had multiple months in 2018 of dumping dollars, as The Street reports.
Japan holds the lowest amount of dollars since 2011, right when gold took off.
Turkey also has been quietly selling off Treasuries and it is also at 2011 levels.
Meanwhile, as we already talked about, the Federal Reserve keeps printing money like it's Christmas while U.S. debt skyrockets.
This chart from Lear Capital shows gold and the U.S. debt correlating by 91%.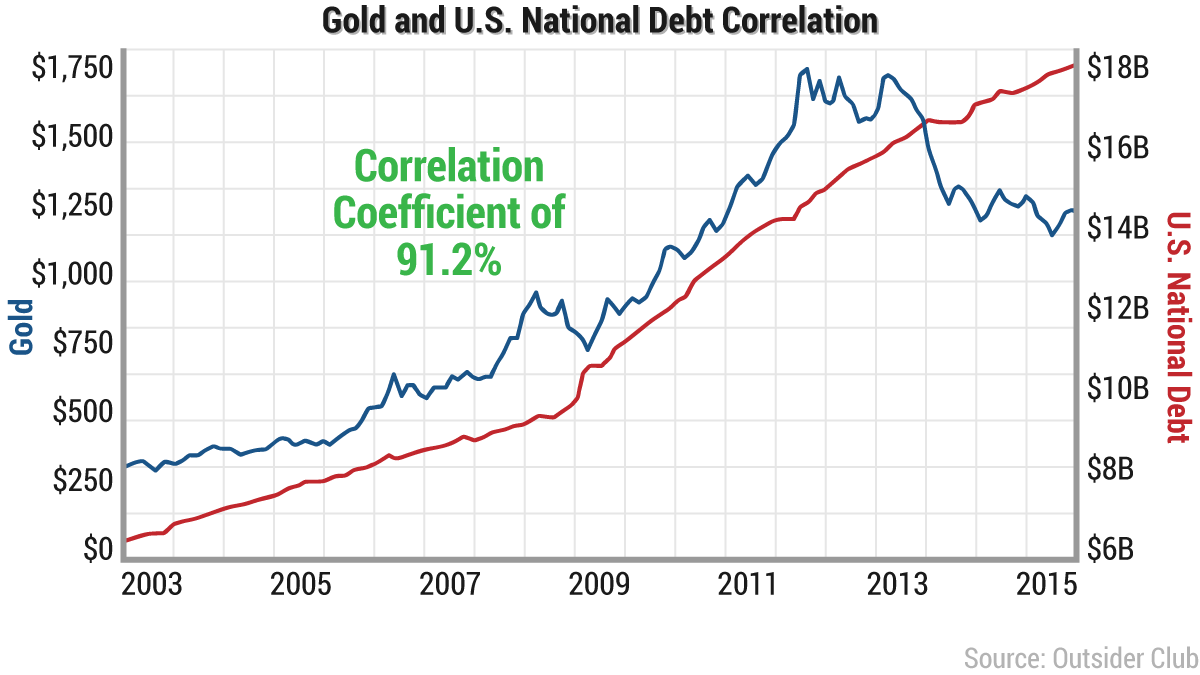 However, notice how in 2013, the trend broke.
At some point, everything gets back to its natural order. Unless you see the U.S. begin cutting coupons to lower its debt, the only place for gold's price to go is up.
Again, we don't need a spike to $10,000 to make a lot of money from gold stocks.
A few hundred dollars, from $1,300 to $1,600, would cause huge demand, I believe, and cause stocks with leverage to go up much more.
Billionaire Rob McEwen thinks $5,000 is a natural price for gold to hit.
Either way, anyone who invests in the right gold stock can make a lot of money.
My #1 stock can show you that.
GERARDO:
Will you share more about that #1 stock right now?
NICK:
I will in a few minutes.
Like I said, with the calculation of its reserves, the runway is up to 19,160%. That's a best-case scenario, but even a triple-digit winner seems conservative.
Let's finish the catalysts, only two left, then I'll get into it. These are important for the final gold bull market.
GERARDO:
You've shared three already.
The supply crunch from fewer gold discoveries and massive buying from banks, countries, and the rich.
The technical chartists among us will dig this. Gold has hit a floor and can only shoot up.
Third, the dollar is bound to lose steam and that should have a positive effect for gold.
What else do ya got?
NICK:
Well, we saw in 2018 two major corrections in stocks. One in February and one from October to December. In 2019, we saw the volatility continue, with May showing the longest losing streak since 2011.
On the flip side, you've seen stocks continue to break record after record. Recessions tend to happen every 10 years.
The last being in 2008, so we're past the 10-year timeframe.
Will the stock market crash? It's anyone's guess. However, the not one but two major corrections in 2018 set off warning signs that perhaps volatility in the markets will go up.
Billionaires like Sam Zell and Ray Dalio have called gold a 'hedge', and volatile markets would send more investors into gold to protect their nest eggs.
GERARDO:
Are you suggesting a recession is coming soon?
NICK:
Probably not a crash like in 2008 in stocks, but history repeats itself again and again. We will, at some point, hit a recession. We're overdue for one.
Right now, the New York Fed has a recession-probability tracker that sits at its highest since June 2008. The Great Recession started around November 2008.
The Chicago Tribune reports a recession should hit by 2021, and that's according to most economists.
Only 11% of the 280 economists it polled thought we would avoid a recession.
CBS reports that most CFOs... the guys looking at the numbers of the business every day... predict a recession by 2020.
Meanwhile, CNBC reports the bond markets are flashing red for a recession.
Right now, we're staring at an inverted yield curve. This means shorter-term interest rates are higher than longer-term. The last time that happened was in 2007.
This is a major recession signal because it typically means in the short term there will be more growth than in the future.
The Fed not continuing to raise interest rates as aggressively as it claimed it would in 2018 means it probably isn't seeing sunshine and rainbows either.
GERARDO:
So, to tie this all in. A weaker economy should spell a stronger gold price in the short term?
NICK:
Exactly. Look at the chart of gold again. It's adjusted for inflation again just so we're comparing apples to apples.
For the most part, gold tends to rise after a recession, sometimes pretty quickly.
The only outlier is in the 90s. But the 80s and 90s were pretty prosperous times, so confidence was high, if you remember.
As you can see, from 2000 up to 2011, the sentiment was pretty bearish after the dot-com crash. Now, we've settled into a groove in the markets.
But at some point, there will be a downturn.
On this 45-year chart, you can count six. That's about one every seven and a half years. We're 10 years out of the last one.
Just looking at odds and nothing else, you'd probably be betting correctly to assume a recession is around the corner.
GERARDO:
We thought the second drop in 2018 might've been the start, but everything came roaring right back.
NICK:
It did, but the volatility is still there. Investors will now be a bit more hesitant going forward.
We've also seen pot stocks cool off a bit, which could open the door for more inflows into gold stocks as well.
GERARDO:
Ok, so an imminent recession will likely boost gold's price. What's the final catalyst? And you say it's the most important.
NICK:
It is. It's also the most telling sign that gold will enter its final bull market.
Think about any major industry in the last 30 years.
Look at telecom. Communications. Transportation. Oil. Computers. You name it.
What do you think they all have in common, Gerardo?
GERARDO:
Umm... We use all of them every day... they're massive influences on American society... all the founders became billionaires.
NICK:
All true. But I'll save you time: They're all controlled by a small majority of companies.
GERARDO:
That's true. There are four major telecom companies... now three since T-Mobile is being bought out by AT&T.
NICK:
In 1994, there were 13.
GERARDO:
Most of our major media is owned by... what 5-6 companies?
NICK:
That's right. Comcast, Disney, AT&T, Fox, Viacom, and CBS. And Disney just bought Fox.
GERARDO:
E-commerce is still a relatively new idea of the last 20 years, and already, Amazon is the clear front runner, followed by box stores.
NICK:
Here's the key. All the industries are booming. Take oil, for instance. The top six oil companies in the U.S., called "oil majors", includes Chevron, Exxon, Conoco. In 2007, they all totaled $494 billion. Today, they're almost double that at $806 billion.
However, to get to these profitable points... the industry had to consolidate.
Let's look at the transportation industry... to be more specific... airlines.
In 2008, more than two-thirds of airlines were operating under Chapter 11 bankruptcy protection. What do smart investors do when prices are cheap?
NICK:
And buy they did. They bought each other. Massive consolidation followed, giving us the four major carriers today — Delta, American, United, and Southwest.
In 2019, according to the International Transport Association, global airlines should report their 10th straight year of profitability.
If you're curious, since all that consolidation... all these stocks have skyrocketed.
Delta stock is up over 836%.
United is up 1,596%.
American ran up as high as 984%.
And Southwest has launched 483%.
A mere $10,000 into each of these would see your portfolio hit as high as $429,900.
This same consolidation in airlines and these other major industries is taking place as we speak in the gold sector.
That's a big reason this is the final gold bull market. So much consolidation just in ever-bullish arenas like tech, travel, and beyond.
Forbes claims this gold consolidation is definitely "positive news for gold mining."
The Street says due to these M&A activities "stock prices for gold miners should surge in the coming months and years."
Barrick gold, the largest gold company in the world, just spent $18.3 billion to purchase Randgold Resources in December 2018. Randgold had five gold mines with over 1.3 million tonnes of gold produced per year.
Barrick didn't stop there. In February 2019, it tried a hostile takeover of Newmont mining. Newmont isn't an infant. Barrick's valued at $23 billion. Newmont's only a few steps behind at $19 billion, making it the second-largest gold producer.
GERARDO:
So the largest company tried to take over the second-largest company. Like Apple trying a hostile takeover of Microsoft.
NICK:
It was ugly. In the end, the deal collapsed, but now both companies are joining forces in a joint venture in a move to lower mining costs.
However, this hostile bid may have come about because Newmont wanted to take the throne from Barrick. In January 2019, Newmont bought the fourth-largest gold producer, Goldcorp, for $10 billion.
Rob McEwen, who I know personally, is a billionaire in gold and is the founder of GoldCorp, so he made out pretty well.
Now, Newmont will be the largest gold producer once the deal goes through.
GERARDO:
This is like an episode of Game of Thrones.
NICK:
This consolidation can mean one thing and one thing only. Remember, costs have been rising since 2012, and there are fewer and fewer ounces of gold coming out of the earth.
All of this means gold is about to become super valuable. Forbes believes it could even come to "peak gold" territory.
The Chairman of GoldCorp, Ian Telfer, told the Financial Post: "Gold produced from mines has gone up pretty steadily for 40 years. Well... it's already going down. We're right at peak gold."
GoldCorp founder Rob McEwen told Bloomberg that he sees a "tipping point coming" in M&A. And that should send gold to $2,000 then $5,000, he believes.
There were more consolidations
Northern Star & Pogo Mine
Zijin & Nevsun
Coeur & Northern Empire
Hecla & Klondex
All of these in 2018 and 2019.
Consolidations, much like the airline industry, means the industry has hit a bottom.
Now is the time to buy. Today.
As this consolidation peaks, gold stocks should only get more expensive as Wall Street and regular investors wake up.
Barron's claims "gold mining stocks are an unalloyed bargain."
GERARDO:
Do you see your #1 gold stock of the next decade as a centerpiece as this consolidation and final gold market begins?
NICK:
Absolutely. It is in full-blown M&A mode at the moment. I've sat down with the CEO and I know you have too, Gerardo.
NICK:
While miners have been going out of business or getting acquired, this incredible gold play has over $9.2 million in cash to spend on mining activities. Zero debt.
It's been making acquisitions since 2011. In the past five years, it's acquired seven gold projects.
You mentioned at the very beginning, gold mining costs are around $174 per ounce.
With the M&A it's been doing of small-time miners, it's been acquiring at around $10 per ounce.
That's around 96% less than the biggest companies like Barrick and Newmont are likely spending.
GERARDO:
How much gold is it sitting on?
NICK:
If you added all its gold up, it currently holds 23 million ounces of gold. That would make it one of the top 10 gold mines in the world if added together.
When you multiply its reserves by the average price of the past few months...
You get a value of $29.9 billion.
That's 19,160% higher than its current stock value.
Yet, its reserves are spread out among many mines in the U.S., Canada, Peru, Brazil, and Colombia.
And the CEO told me privately they are still looking for more assets to acquire.
Right now, if you multiplied all the gold the company has acquired by the peak 2011-2012 gold price... which was close to $2,000 per ounce... it would be worth $822 million.
It bought these assets for $80 million.
Meaning, the listeners today... when gold trots back up to just $2,000... you could easily see at least a 10X return on your shares because that's how much its gold would be worth. Remember, the runway is up to 19,160%... 1,000% is pretty tame.
GERARDO:
Like you said, I talked with the CEO. He said they've been stressing keeping general and administrative costs way down to help fund these acquisitions and mining activities.
The cash in the bank will fund the company for almost two more years without needing another penny from outside sources.
NICK:
Which is good, because, on top of that, insiders own 20% of the shares of this company. Meaning, they're invested just like I am and just like you will be.
Other key shareholders include Sprott Global... owned and run by a near-billionaire in this space, Rick Rule.
Plus, my guest today, Mario Garnero, he owns a large share as well.
This company is starting to get attention.
Only two analysts cover this company. HCW and Roth Capital.
Both of these analysts predict a 450% price spike coming soon.
The time is now to invest before this jump occurs.
This company, due to its large gold acquisitions, is highly leveraged to the gold price.
So, when gold jumped 8% from November 2018 to January 2019... my #1 stock popped as high as 33%.
That's a 4X difference.
Meaning, if gold hits $2,000/oz... a 53% bump... you should expect my #1 stock to move 212%.
If gold hits $5,000 as billionaire Ray Dalio claims... a 284% move... my #1 stock would shoot 1,138%.
I'm urging everyone to purchase shares right now.
GERARDO:
Where can our investors get this pick from you?
NICK:
I'm giving away the ticker symbol and all the details on this company FREE right now.
All you need to do is download my special report, "The #1 Gold Stock of the Next Decade."
If you plan to make money from the start of the final gold bull market, forget all the large billion-dollar gold plays...
This company has enough gold added together to be a top 10 producer. Yet, few know about this small stock.
Its market cap is only around $200 million.
Compare that to the other companies merging that are worth $18-$20 billion. They're up to 99X bigger than my #1 pick.
The runway is massive.
GERARDO:
We'll show you how to get your copy of Nick's brand-new gold report, "The #1 Gold Stock of the Next Decade," in a moment.
If you're in a hurry, click here for all the details.
Up to now, you revealed the five catalysts for gold:
The supply squeeze coming from massive buying from countries like China, billionaires like Ray Dalio and George Soros, and less gold coming out of the ground
Next, technical indicators show long-term and short-term bullish signals, including gold holding support when the technicals say gold should be much lower.
Third, gold is hitting all-time highs in other currencies including the yen and peso. Meanwhile, the dollar is hitting levels that are due for a pullback.
Fourth, we're less confident in stocks. 2018 saw two major corrections, plus we are due for a recession as we've crossed the standard 10-year historical time frame between recessions.
Last, and most important, gold companies are consolidating at rapid paces, including the top one and two gold producers making billion-dollar moves.
Even just one of these catalysts could shoot gold stocks up, and that's important.
But, you also at the beginning touched on three important points. I want to address those one more time.
You mentioned why the majority of investors will never get rich from gold.
You said:
First, they'll buy gold bars.
NICK:
Yeah, that's fine to keep a few for protection, but you'd need to purchase lots of ounces in order to make a ton of money.
GERARDO:
Sure. Next, you said the gold mining stocks you invest in must be ahead of a trend.
You gave us the five main catalysts today, that's checked off.
The last is investors don't know enough about the gold stocks they invest in.
NICK:
Right. They hear "gold is going up," so they invest in whatever gold stock sounds good. Mining stocks are more volatile and more susceptible to drops, even bankruptcy.
You need to know what you're investing in to protect your money.
GERARDO:
You've done that well for your readers, showing them massive gains.
Again, these are just from gold stocks.
Let's put up on the screen all your gold stock winners from the past few years while gold was in a bear market.
489% in Azucar Minerals
322% in Ivanhoe Mines
100% in Atlantic Gold
371% in Almaden Minerals
121% in Midas Gold
159% in Golden Arrow Resources
170% in Revival Gold
103% in Palamina
121% in Roxgold
156% in Millrock Resources, and an amazing
531% winner in K92 Mining
A mere $50,000 into each of these would end up with a portfolio of $1,321,000.
You search out these plays for your readers.
Here's a few more of their successes:
I am up 100% thanks to you!
— David S. from Phoenix, Arizona
Today I made over $42,000.00 on half the sale of BRIZF....this to me is a game changer. Incredible!!!!!!!..... Again thanks!.
— Roger D. Hunt
I have made 100%-400% on at least 3 of Nick's recommendations.
— Jim Mac
I made over 60 % on my money in less than 90 days.
— Mark R.
Thx for your advice I am up 60% on ONVO in just a few days ...amazing!!
— Dario
I'm up 84% on my investments using Nick Hodge's picks...
— Pat Coon
These are incredible testimonials of your research.
Because most of your time is spent doing actual boots-on-the-ground research at the various companies you recommend.
NICK:
Absolutely. In the gold, metal, and energy spaces, you need to be doing deeper due diligence than if you were investing in say Apple or Amazon. Tens of thousands of readers rely on my timely and accurate research to make investment decisions.
The very minimum I can do if you trust me for investment advice is actually show up on-site at these companies. You can't see everything from behind a computer screen.
GERARDO:
You're always traveling to visit these places.
NICK:
I've lost count of how many times I've stood at the edge of a mine. You stand there and look straight down, 500 feet or more. They don't just let anyone on these sites either. They're dangerous and shielded from the public.
I've been in four-man helicopters over the wilderness to get to a site because we couldn't get to the site by foot or car. This is stuff you don't see in the news.
We listed Midas Gold as one of my winners. I visited the site, and after talking with the executives and walking around, I truly believe it's the largest unmined deposit in the U.S. Since my visit, the stock went as high as $1.21, which was 163% higher than my buy-in recommended price to my readers. It's still a buy. That's a freebie for viewers.
GERARDO:
Midas Gold. Extremely cheap right now. But that's not your #1 pick.
NICK:
Not it. My #1 pick I believe has a lot more upside and is just as cheap.
GERARDO:
Any other interesting travel stories?
NICK:
Let's see. I have a bunch, but I'll share just two more.
There was this interesting company called Stellar Biotechnologies. This was a few years ago. Snails were being caught and drained of their blood. The blood was selling for $900,000 per gram.
NICK:
It's insane to think about it now. But this company, Stellar, figured out how to grow these snails. Think of growing more geese that lay the golden eggs. They figured out how to extract the blood without killing the snails. The blood could be used to activate vaccines and other drugs.
But the stock soared from when I recommended it at $0.30 to as high as $1.33 or so. A 343% gain. This happened in under 24 months. Many, many of my readers got rich from this one play.
Last story. I visited lithium mines long before all the fanfare about lithium thanks to Elon Musk. I went to Lithium X. You can't find them anymore because they were bought out.
I got readers in at just $0.15. Less than a quarter per share. The company was bought out at $2.61. A quick 1,633% winner.
GERARDO:
That would turn $25,000 into over $433,250.
NICK:
Not would. It did. For many of my readers.
GERARDO:
Now, you are prepared to share this #1 pick inside your new and exclusive report "The #1 Gold Stock of the Next Decade"?
NICK:
You'll receive the ticker symbols plus a full background on the company. But, you'll also receive a killer bonus inside.
GERARDO:
What kind of bonus? The free gold you teased about?
NICK:
Free gold comes later. This is more a 2-for-1 bonus. See, I'm a big proponent of uranium.
Uranium prices continue to flounder at historic lows. Uranium had a huge run-up in 2007, but since a massive nuclear explosion at a Fukushima plant, uranium has trended downward.
As you can see from the chart, it looks like uranium has found a bottom for the past two and a half years around $25.
Now, with talks about 'clean energy', and a push against fossil fuels, the road is paved for nuclear. An energy source as clean as even wind and solar.
Only about 11% of global power runs on uranium.
In America, our uranium production is at historic lows.
We're importing from Canada, even Russia and Kazakhstan.
If we're going to push for clean energy, nuclear must be on the table. That push started in March 2019 when senators reintroduced the "Nuclear Energy Leadership Act." The point of this legislation is to establish the U.S. as a nuclear powerhouse and wean off of the likes of the Kremlin for uranium.
Even billionaire philanthropist Bill Gates backs nuclear energy, claiming "Nuclear energy is one of these critical technologies. It's ideal for climate change, because it is the only carbon-free, scalable energy source available 24 hours per day."
Well, the 2-for-1 bonus is that my #1 gold stock has a quiet interest in uranium.
It's a $10 million asset it holds that you basically get for free when you pick up shares. The $10 million has no value in the market due to uranium's low price, so it's a 2-for-1 play.
I believe this interest will likely spin out into a new company and you'd receive free shares for simply owning my #1 gold stock.
Play both the gold and uranium bull markets at the same time.
GERARDO:
That's incredible. All we have to do is invest in your #1 gold stock and we are all set for both opportunities?
NICK:
It's not a pure play on uranium, but it does get you some great exposure to sector. These opportunities are moving quick and that's why I urge you to pick up my free report now.
GERARDO:
With this stock, you could bank a potential six-figure payday once gold enters its final bull market.
NICK:
That final bull market is starting now. There's no time to wait. I'm already invested in gold and you should be, too.
But I want to share another free gold bonus today for taking action with my free report.
GERARDO:
What else do you have, Nick?
NICK:
Since this is the final gold bull market, you deserve to collect gold checks forever.
Especially as gold continues to ride under the radar.
That's why I have another special report... "Golden Royalties for Life with One Stock."
Inside, I detail my favorite gold income stock.
This gold company is close to its 2012 prices and is a bargain.
It's a special company because it doesn't own gold mines outright. Instead, it owns royalties and streams on some of the best gold mining projects in the world.
For example, it collects $20 million annually from the largest gold mine in America... owned by Barrick.
That's only one. In total, it owns over 211 precious metals assets across the globe.
The gold ounces it collects royalties from have increased 92% since 2007. In 2018, it had a record year in revenues, a new record in income, and a new record in cash in hand.
Meaning, it is up to its elbows in cash to pay out to you... the owner of its stocks. Collect royalties for life... golden royalties.
That's all for free in my special gold income report, "Golden Royalties for Life with One Stock."
GERARDO:
You told me before we started that readers could get copies of these two reports... valued at $99... for free if they took one action step.
You mentioned that mining investors need boots on the ground. You want to be the boots on the ground for everyone.
You do that inside your popular flagship newsletter, Wall Street's Underground Profits.
Tell me about this newsletter.
NICK:
Our goal with Wall Street's Underground Profits is to pinpoint opportunities Wall Street either avoids or turns its nose up at
As a subscriber, I challenge my readers to be self-reliant. Independent. Free-thinking. A leader, not a follower.
You talk to a broker on Wall Street about gold, they'll laugh at you and point you to what's hot... Netflix, Amazon, Internet of Things, A.I.
We don't seek out those opportunities because, if it's in the news, you're too late.
The middle class has been declining for years... meanwhile, Wall Street can blow up the markets in 2008 and collect bailout checks from your tax dollars. You can't rely on these systems anymore.
Each month, with Wall Street's Underground Profits, I'm revealing underground plays... stories you won't hear about. I shared a few already about snails and lithium before it was hot.
These underground opportunities can spell huge gains for you. You've already seen my track record just in gold.
489% in Azucar Minerals
322% in Ivanhoe Mines
100% in Atlantic Gold
371% in Almaden Minerals
121% in Midas Gold
159% in Golden Arrow Resources
170% in Revival Gold
103% in Palamina
121% in Roxgold
156% in Millrock Resources, and an amazing
531% winner in K92 Mining
You also heard about my 1,480% winner in lithium.
I've showed readers gains of:
115% Energy Fuels (uranium)
150% Prophecy Development (vanadium)
117% DNI Metals (polymetallic)
253% Skyharbour Resources (uranium)
112% Millennial Lithium
GERARDO
What do readers get with their subscription?
NICK:
You will receive:
12 monthly issues of Wall Street's Underground Profits. Each issue is around 10 pages with a new idea from me whether about gold, silver, uranium, or something beyond those. Plus, you receive access to over 70 back issues for free with your subscription.
Access to my model portfolio, which includes over 17 portfolio picks. Here, you can pick and choose how you want to diversify your portfolio to receive the maximum profit for your situation. I provide a writeup of each stock for you.
Immediate trade alerts when our stocks make big moves. You don't need to watch the markets all day. I'll shoot you an email if it's time to cash out for a big winner at any time.
A vault of my private interviews from my extensive network. I've met billionaires and some of the smartest people in the metal space. Here you get a front-row seat to various interviews across industries as far as rare coin collection. These are a must watch if you're interested in going deeper on what you invest in.
Customer support and private login: Immediately after you join me, you'll receive a secure email with your login credentials. Plus, any problems and a quick message to my team will resolve the matter.
Really, we're looking for opportunities 'off Wall Street' and outside the view of the media. Then, we enter these positions before the catalysts turn the stock into a triple-digit winner.
At that point, the media picks up the story and it all dies out. That's what happened to gold's last run in 2011. Bitcoin. Marijuana stocks. 3D printing.
GERARDO:
What's the price for a one-year subscription?
NICK:
At retail, it's $399.
That's a steal when you hear about the success my readers have had.
GERARDO:
We've heard a few and we got more.
Jim Dirmann, a vet and lawyer, claims:
I doubled the cost of your subscription in two hours with the purchase of Midas and Roxgold.
Dan Cooney told us:
Just wanted to thank you for my 90% gain on LTE! My best gain yet! Can't wait to see what the future holds. Keep up the good work!
John Britton claims:
Made 6k on [one recommendation], so my subscription has more than paid for itself.
NICK:
There's one more I haven't shared before.
I sat down on a video call with Don
It's a 15-minute call, so I won't show it here. But one thing he said was "I didn't have a good compass on what companies to invest in" before following my advice. He even traded options with little to no success.
Then, long story short, he made 7X his money on Millennial Lithium.
GERARDO:
Testimonials for your work are some of the best I've ever heard for a financial editor. These folks bought into your vision and it paid off in spades.
NICK:
What we're doing with Wall Street's Underground Profits is definitely unconventional... and some would view it as risky. I won't lie. We are investing in more volatile markets, which is why I don't recommend putting all your portfolio into my picks. Definitely not.
But, this is definitely not for you if you aren't willing to explore ideas outside of what CNBC or Fox Business yaps about all day. You won't find me talking much about Google or Facebook here.
This is for underground opportunities only.
Off-Wall Street.
In fact, if you join right now, I'll send you two more free bonuses.
One of them is called "Wealth Without Risk: Growing Rich Without the Stock Market."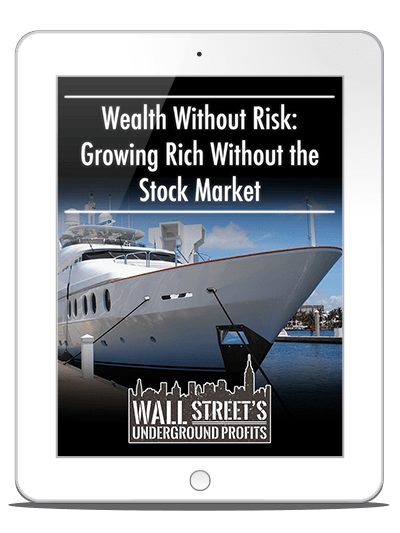 You could say gold is an Off-Wall-Street asset as you can hold it in your hand.
Well, I'll show you three more opportunities that are even more 'Off Wall Street' than gold.
Inside this report, you'll discover:
The #1 asset I always come back to that I define as "true wealth" — it's not stocks or funds and Jim Rogers calls it "one of the greatest industries of the next 20 to 30 years."
How our diets in the next 30 years could make you wealthy for generations to come
The one company that no one has heard of that's absolutely conquering the food market (and could make you rich)
An asset in your kitchen that China just spent $617 billion on and twenty heads of state (including Bill Clinton) believe will disappear from the Earth
Five companies to watch that could save the world
This report could create generational wealth for years to come.
Including wealth in your retirement. My #1 gold investment today could create enough to retire on.
However, I want to make sure you have the strategies to stay retired.
That's why I have a third free bonus for you called "Social Security Superchargers."
Inside, you'll find:
How to collect 'toll road fees' every time you pump your gas
Where to find 10X more 'interest' than what you'd find in a boring savings account
A secret to earning $454,320 more from your Social Security for you and your spouse
An easy one-page form that delivers an instant 50% boost to your government check
The special asset that pays you checks for life even if you went broke
A tax loophole to accelerate your wealth that drives the IRS crazy
And there's even more than that.
These are also ideas rarely seen around Wall Street and financial advisors.
Both these reports are also valued at $198.
That's four reports totaling $396.
GERARDO:
Plus, $399 for a one-year subscription to Wall Street's Underground Profits. That's $795 in value for $399.
NICK:
That's correct.
However, if you act right now, I'll chop 75% off the price on the next page.
Click the button below and you'll be redirected to a secure and private page that gives you the full details on how to join Wall Street's Underground Profits.
You'll also find I've chopped the price to just $99.
GERARDO:
That's quite a bargain, especially with the testimonials we heard.
NICK:
And I'm willing to back it all up. Today, I'm offering a double guarantee.
First: You have 12 months to try out my service, and if at any point you don't feel it's right for you, you get a full refund of your money. Plus, you can keep all the bonus reports free.
That's as risk-free as it gets. But I'm willing to go further.
Second: If in the next 12 months you don't see at least one triple-digit winner in my portfolio, I'll give you a second year free on the house.
That's a double guarantee.
GERARDO:
What about the free gold you're giving away?
NICK:
You're right. Consider this is a TRIPLE GUARANTEE.
On the very next page, after you click the link below, I'll show you how it's possible to have the opportunity to get gold shipped to you right from my office. The details are on the next page.
GERARDO:
That's quite generous, Nick. Let me summarize what you get today:

A full one-year subscription to Wall Street's Underground Profits ($399 value)
"The #1 Gold Stock of the Next Decade" ($99 value)
"Golden Royalties for Life with One Stock" ($99 value)
"Wealth Without Risk: Growing Rich Without the Stock Market" ($99 value)
"Social Security Superchargers" ($99 value)
A 12-month money-back guarantee, plus
A triple-digit guarantee or second-year-free promise
Plus, an opportunity at free gold (priceless)
All for just one payment today of $99.
That's only $0.27 per day to get in on the final gold bull market ever. A six-figure fortune is on the line.
Click the button below to get started.
Nick, thanks for joining us.
NICK:
This has been awesome. Thanks for hosting, Gerardo.
GERARDO:
You heard it here.
The final gold bull market is starting as we speak. The gold train is leaving the station, if you will.
Nick Hodge has laid out a masterclass of proof that's defying Wall Street, the gold bugs, and the naysayers.
And he has quite the track record to back it up, including these massive winners that happened during gold's bear market.
You also heard from an $800 million investor who is heavily invested in gold. These are the types of experts Nick has aligned himself with and you now have an invitation to gain their intel.
An invitation that doesn't come around that often.
Wall Street's Underground Profits is the premier newsletter for you if you realize playing by Wall Street's rules isn't going to make you wealthier.
Nick bucks what everyone else says to find unique opportunities you will only read about after they take off.
He believes gold will be on everyone's lips very soon... and by then it'll be too late to invest. His track record speaks for itself.
Here's what to do right now.
Click the button below. You'll automatically be sent to a secure page to complete filling in your information and securing Nick's #1 gold pick, a subscription to his monthly newsletter, and all his bonus reports. Plus, see how to potentially get gold shipped to your house at no extra charge.
This is the final gold bull market. Your opportunity to invest is now or never.
It's your choice.
My name is Gerardo Del Real. Thanks for watching.
Gerardo Del Real
Resource Stock Expert & Consultant
Editor, Junior Mining Monthly and Junior Mining Trader
You'll Never Be On the Inside!
So, join Outsider Club today for FREE! You'll learn how to take control of your finances, manage your own investments, and beat "the system" on your own terms. Become a member today, and get our latest FREE report: "Three Big Profit Opportunities in Solar"!
We never spam! View our Privacy Policy
After getting your report, you'll begin receiving the Outsider Club e-Letter, delivered to your inbox daily.