This Is Getting Ugly
At this point, we're just fighting to survive...
Posted December 6, 2021
---
The 50th annual Monument Lighting took place here in Baltimore last week.
Baltimore hosts the big event on the first Thursday of December, complete with food trucks, music, and fireworks.
Here's an old photograph of the Washington Monument in the 1970s with lights strung up.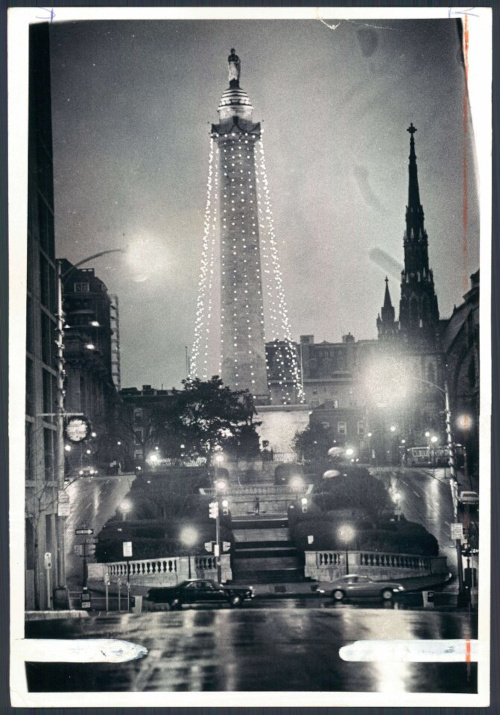 I'm a sucker for traditions.
We have a nice view of the monument from our offices here in Mount Vernon, so it was just a quick walk around the corner to attend the lighting.
There's really no better way to kick off the holiday season.
It brought a much-needed glimmer of hope and cheer as we prepare for Christmas and New Year's.
Last year's lighting was canceled because of COVID, a phrase many wish never existed.
This year was different.
We were packed in like sardines with nary a mask in sight, even with the city-imposed mask mandate.
On the way back from the lighting, the crows came out, cawing at us to disperse.
The omicron variant isn't scaring us yet, but fear certainly overtook the markets last week.
Volatility shot up, with the CBOE S&P 500 VIX Volatility Index (VIX) hovering around 30. Remember that a level of 30 means investors are nervous. If you see the index reach 40, it means the market's entered a full-blown correction, which means you should buy stocks. For now, we just want to dip our toes in.
Experts say the severity of the variant and its transmissibility need further research.
But it's not pandemic worries driving stocks lower; that's just a red herring.
Last week's sell-off stemmed from fears of the Fed raising interest rates.
We're at a financial crossroads, as inflation has eaten away purchasing power from the dollar, leaving stocks and cryptocurrency as the only safe havens to grow our money.
Crypto hasn't been around long enough to reliably draw market correlations, but over the last six months when stocks have fallen, crypto has stepped in to pick up the slack.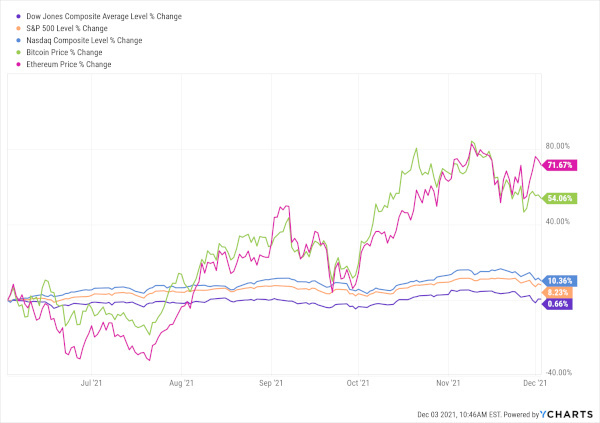 My advice is to mind your trailing stops and don't feel defeated if you're stopped out of a position; it happens to the best of us. And don't neglect crypto just yet.
It's safe to say investors aren't messing around.
Market valuations are cooling off across the board, which gives us the opportunity to not only lower our average costs but also see what moves company executives are making.
Here are three companies that insiders are scooping up. Soon I'll be able to get you this information exactly when I spot buying action.
You'll Never Be On The Inside!
So join Outsider Club today for FREE. You'll learn how to take control of your finances, manage your own investments, and beat "the system" on your own terms. Become a member today, and get our latest free report: "Short Selling 101."
After getting your report, you'll begin receiving the Outsider Club e-Letter, delivered to your inbox daily.
Newest Insider Trades
First, we have Eloxx Pharmaceuticals (NASDAQ: ELOX), which develops clinical-stage biopharmaceutical drugs to treat rare and ultra-rare diseases caused by mutations in messenger RNA (mRNA). The mRNA COVID vaccines took the spotlight this year, but other mRNA treatments are emerging as cutting-edge solutions for all types of diseases.
Eloxx completed Phase 1 trials for the main drug in its pipeline, ELX-02, which is being used to combat cystic fibrosis. Testing of the drug in the U.S., Israel, and Europe recently resumed after it was paused due to the pandemic.
What's more is the company just announced a new program focused on rare ocular genetic disorders, including inherited retinal degeneration, which affects nearly 2 million people worldwide. Its drugs may help treat other retinal disorders as well, like macular degeneration, which impacts nearly 200 million people worldwide.
Now, I'm cautious when investing in any biotech company, as clinical trial data heavily affects share price. If bad news comes out or a trial isn't completed, the stock usually gets hammered. But that's why watching the moves of the insiders at biotech companies can give you an added boost of confidence.
Earlier this year, cluster buying occurred when three directors and Pontifax Management, a venture capital firm, bought more than 17 million shares at $1.35 per share.
After the stock dropped last week, interim CFO Daniel Geffken purchased 50,000 shares at $0.72.
The stock's trading in oversold territory and another technical indicator I watch, called the moving average convergence divergence (MACD), indicates momentum is picking up.
It's a very speculative idea, so I'd use a tight trailing stop.
The second stock I'm looking at is one fellow Outsider Jimmy Mengel recommended to his paid subscribers about a month ago — a happy little coincidence.
It's an online gaming (iGaming) company specializing in working with brick-and-mortar gambling operators.
The company provides software that helps gambling businesses grow their brand and increase revenue.
Over the last three months, insiders have purchased nearly $750,000 worth of stock at an average price of $12.73.
With the recent correction, the stock is well off its highs, but future prospects are strong. Revenue increased 214% year over year, with sales up 17% to $35.2 million.
Unfortunately, I can't give away the ticker here, as that'd be unfair to our paid subscribers, but if you want to know more about the company and the burgeoning industry, then you'll want to take a look at Jimmy's full presentation here.
Lastly, I'm looking at Freshpet (NASDAQ: FRPT), which describes itself as the future of pet food.
As a dog owner myself, I'm always searching for the best food at the cheapest price.
But I also like the petcare industry as a whole, and I've mentioned the ProShares Pet Care ETF (BATS: PAWZ) as a way to get exposure to the industry. In fact, the ETF holds a 5.71% stake in Freshpet.
Freshpet uses 100% farm-raised chicken and beef along with salmon, lamb, bison, turkey, and whitefish. The meat is then mixed with a variety of fruits and vegetables, including spinach, carrots, blueberries, and sweet potatoes.
The company gets fresh ingredients daily and steam-cooks them, locking in all the nutrients. Its products don't contain artificial flavors or colors, preservatives, animal byproducts, or highly processed meat powders.
Last week, CEO William Cyr purchased $200,000 of stock at $100 per share.
It just entered oversold territory but is coming back with momentum behind it.
The stock's a bit expensive when compared with Chewy (NYSE: CHWY), which sports positive financials across the board, but it's a play to keep an eye on, as earnings are forecast to grow 69% per year.
The Fight for Food
I often find pet food that looks better and costs less than human food. It's crazy how much we'll spend to keep our furry friends healthy but then neglect our own health.
But much of that's not our fault; it's what we have available to us.
Not to mention, the "healthy" food is unaffordable, especially now with inflation killing us at the grocery store.
When the pandemic started, I had a bad feeling about food and the supply chain.
But I never thought it would get this bad.
By now you've surely heard about the fertilizer crisis that's set to massively raise grocery prices even more next year.
That's because fertilizer represents the most expensive part of the farming process, and most fertilizer prices doubled in 2021...
That's unheard of.
But these rising costs aren't even reflected in food prices... yet.
Once food prices reflect rising fertilizer costs, things will only get uglier before they get better.
But there's one company investors can buy right now that's poised to solve the coming food crisis.
Outsider Club's mining and precious metals expert Luke Burgess has found what he believes will be one of the best-performing stock picks of his 20-year career covering the industry.
This company's sitting on a resource more valuable than oil.
Luke just released his report on the one company that'll see demand for its product skyrocket as the food war continues, and you're one of the first to get access to it.
To your wealth,
Alexander Boulden
Editor, Outsider Club
After Alex's passion for economics and investing drew him to one of the largest financial publishers in the world, where he rubbed elbows with former Chicago Board Options Exchange floor traders, Wall Street hedge fund managers, and International Monetary Fund analysts, he decided to take up the pen and guide others through this new age of investing. Check out his editor's page here.
You'll Never Be On the Inside!
So, join Outsider Club today for FREE! You'll learn how to take control of your finances, manage your own investments, and beat "the system" on your own terms. Become a member today, and get our latest FREE report: "Three Big Profit Opportunities in Solar"!
We never spam! View our Privacy Policy
After getting your report, you'll begin receiving the Outsider Club e-Letter, delivered to your inbox daily.