The SEC Called Me About My Pot Recommendation
Posted July 26, 2018 at 8:00PM
---
I got one of the scariest phone calls of my life a few years ago.
It was from the Securities and Exchange Commission. They were curious about a stock recommendation I'd made in the Outsider Club.
See, in December 2015, I'd attended an investor conference in Los Angeles. And when I got back, I was eager to share what I'd learned with readers.
One stock that piqued my interest was Pineapple Express (OTC: PNPL). There was nothing weird or illegal about anything I wrote. I just thought the company had an interesting story. So I told it.
Now, when that story was published on January 8, the stock was trading at $3.15 per share.
A week later, it was at $5.90.
A week after that, it was at $8.75.
And by the end of the month, it was over $9.
It stayed there until the spring, when it shot up to $23.95 in late March.
That's a 660% gain for those keeping track at home.
I was pretty pleased with myself, and a little bit rueful because I never personally invest in stocks I recommend to readers.
Still, despite having done nothing wrong, and not holding the stock, I was admittedly unsettled when the SEC called me.
They asked all the questions one might expect: who I met with in L.A., what they told me, if I owned any shares, if I was given anything to promote the stock… etc.
I cooperated as much as I felt comfortable cooperating before deciding I'd prefer to have a lawyer present and stopped taking questions.
Thankfully, that was the last I'd hear from them.
In any case, the SEC suspended the stock. And once PNPL resumed trading, its shares tumbled to just $0.80.
I bring all of this up for one reason: To demonstrate both the potential rewards and potential risks that come with investing in pot stocks.
Make no mistake, there is an enormous amount of money to be made in pot stocks.
This is the dawn of a brand-new industry — an industry that is poised to rival, and even eclipse, alcohol and tobacco.
Massive gains are being made.
Aurora Cannabis shot up 417% at one point.
Marijuana venture capital firm Cronos Capital surged 380%
And Helix TCS blew up 221%.
Those are the kinds of gains that make overnight millionaires.
But it's also dangerous.
The cannabis industry abounds with unprepared upstarts and outright frauds that will ultimately flame out.
And it's an even bigger mess from a regulatory perspective.
Each state has its own set of marijuana laws, and the federal government still considers cannabis a Schedule I drug, alongside heroin, LSD, ecstasy, and peyote. (FYI that means it's somehow considered more dangerous than OxyContin, cocaine, and Vicodin.)
As a result, there are banks that refuse to handle cannabis industry money or process payments. Many don't even know if they're allowed to.
For all those reasons, the marijuana sector is a little bit tricky. It's not like investing in gold or oil, or Amazon or Facebook.
But again, the potential rewards are too great to miss out on. We're talking about life-changing, 10-bagger gains.
That's why we're holding our first-ever live summit Wednesday at 3pm ET.
This 60-minute live master class will show you how to make massive profits in the cannabis industry, without getting burned in the process.
Our in-house marijuana investment expert, Jimmy Mengel, is ready to show you his "Power 3" cannabis investment strategy.
This is the formula he's used for years to pick high-flying pot stocks.
Like his 1,835% return on Canopy Growth Corp., for example.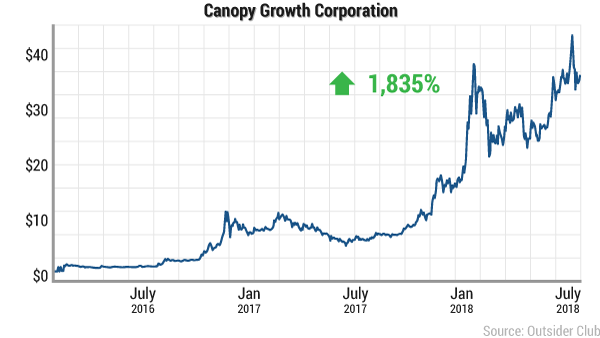 And here's the best part: The event is free to attend.
All you have to do is sign up here.
Jimmy knows more about cannabis investing than anyone else out there right now. He's been out in front of this budding industry since the very beginning. He's toured marijuana grow houses and retail facilities throughout the United States and Canada.
So if you're serious about investing in pot stocks, sign up for the live Marijuana Millions Summit.
This free presentation will give you all the info you need to bank huge gains and avoid the land mines.
And take it from me, that latter part is crucial. You don't want the SEC calling your house.
Fight on,
Jason Simpkins
@OCSimpkins on Twitter
Jason Simpkins is Assistant Managing Editor of the Outsider Club and Investment Director of The Wealth Warrior, a financial advisory focused on security companies and defense contractors. For more on Jason, check out his editor's page.
*Follow Outsider Club on Facebook and Twitter.
You'll Never Be On the Inside!
So, join Outsider Club today for FREE! You'll learn how to take control of your finances, manage your own investments, and beat "the system" on your own terms. Become a member today, and get our latest FREE report: "Three Big Profit Opportunities in Solar"!
We never spam! View our Privacy Policy
After getting your report, you'll begin receiving the Outsider Club e-Letter, delivered to your inbox daily.