Sneak Peek: Wall Street's Underground Profits Is Crushing It
Sneak Peek: Wall Street's Underground Profits Is Crushing It
Posted July 31, 2020
---
Today we're bringing you a sneak peek at Nick Hodge's Wall Street's Underground Profits, published on July 14, 2020.
I point out the publication date because news moves fast these days. That is especially true for gold news.
Gold just passed all-time highs and the Wall Street's Underground Profits portfolio is pulling in fantastic gains, which Nick covers below.
For those readers, this is just the start, especially with Nick's focus on what will become the biggest gold mine in America.
Take care,
Adam English
Editor, Outsider Club
---
What a month it was!
I facetiously told you last month that the:
Pandemic's over. It was all overblown.

The S&P is back to where it was before the virus caused global mayhem, and is seemingly content to follow in the NASDAQ's footsteps to all-time highs.

All is well in Wall Street World.
The stock market then went on to lose 8% of its value in a few days as volatility reared back up.
That volatility has already waned, but I caution you that VIX, while back near its lowest levels since corona, is still elevated in a historical context, and certainly relative to anything we've seen over the past year.
If you're keeping track, and you should be, the S&P 500 finished the first half of the year down 5%. The NASDAQ, meanwhile, has diverged and finished the first half up 10%.
Our closed portfolio is up something like 50%.
Gold (GC00) delivered some 18% upside in the first half, while gold stocks (XAU) delivered much more than that and have been the best-performing sector on the Street.
There is much more to come from this gold bull market as it is only getting started now in earnest.
Gold broke through $1,800 per ounce since the last issue. Technically, it is poised to take out all-time highs and is likely gathering the energy to do so.
New highs in gold could come alongside new highs in stocks. But as I've been saying, only one is going up for the right reasons.
Our returns already this year have been nothing short of tremendous, including closing:
• 112% on Sibanye-Stillwater

• 253% on K92 Mining and

• 254% on Teranga Gold
And there are many other open winners in the portfolio, which I'll get to in a bit.
First, a bit of macro overview...
There continues to be a global pandemic wreaking havoc on daily life. Daily cases in the U.S. continued to hit records in July. The death rate has slowed, but some jurisdictions are still at or near intensive care capacity. Restrictions are returning and it's clear we won't be back to normal anytime soon.
Stock valuations — even with the S&P slightly down for the year — are still severely disconnected from a reality where unemployment is some 15% to 20%. No one knows the real number because of the unprecedented nature of this event. (ADP, for example, revised its May jobs numbers by a total of 5.825 million, originally saying 2.76 million jobs were lost and then saying that 3.065 million jobs were actually gained.)
Earnings will be depressed, much like they were for Q1. But that doesn't seem to matter against a backdrop of a Federal Reserve and Congress content to print and prop at any cost.
And the cost is mounting inflation for those who can least afford it with the "have nots" (Bloomberg's term, not mine) suffering an "inflation shock".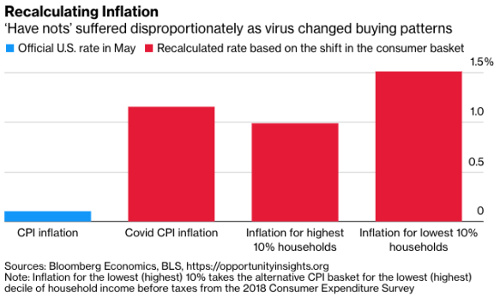 But with U.S. and global gross domestic products poised to contract because of the virus, the inflation isn't being accompanied by growth.
And that is how you get stagflation.
Massive unemployment. Inflation. Low growth. Historically low and negative interest rates. Generational turning.
It's a perfect recipe for volatility and higher commodity prices. And that's where I'll be keeping the focus.
Call it like you see it,
Nick Hodge
Editor, Wall Street's Underground Profits
---
To get more insights and full issues from Nick, check out this special presentation from Wall Street's Underground Profits.
You'll Never Be On the Inside!
So, join Outsider Club today for FREE! You'll learn how to take control of your finances, manage your own investments, and beat "the system" on your own terms. Become a member today, and get our latest FREE report: "Three Big Profit Opportunities in Solar"!
We never spam! View our Privacy Policy
After getting your report, you'll begin receiving the Outsider Club e-Letter, delivered to your inbox daily.