In 2019, we'll likely see another big surge in gold prices — and junior miners.
We could talk at length about the reasons why...
Gold production cratered when prices collapsed from a record high of nearly $2,000. Now, the mines that are producing are running low on reserves. And the quality of those reserves is rapidly deteriorating.
Metals Focus estimated 2018 gold mine output at 3,239 tonnes, down from an estimated 3,241 tonnes in 2017 and 3,264 tonnes in 2016.
"Post-2013, we've seen some pretty significant reductions in new project development," says Oliver Heathman, Metal Focus' head of mining research.
Another metals consultancy, CPM Group, estimated 2018 gold output at 97 million ounces, compared to 97.8 million in 2017. And CPM says production will continue to slide through 2024 and 2025.
Meanwhile, demand is once again skyrocketing in an uncertain global climate.
Dissatisfaction and anger have translated into major political shifts. We're seeing more protests and riots — not just in the U.S. but worldwide.
Donald Trump's trade wars have undermined global trade — and the dollar.
Brexit raised serious questions about the viability of the European financial system.
Will the euro survive?
No one knows.
This is precisely the environment in which precious metals shine the brightest.
And when gold rises, junior miners, which are leveraged to gold prices, rise much higher.
For example, the VanEck Vectors Junior Gold Miners ETF (NYSE: GDXJ) — which holds companies as small as $10 million — soared 183% in just one six-month period in 2016. In 2017, it went on a 30% run from May to September. It did the same in a 10-week period from mid-November 2018 through mid-February 2019.
And we could easily see similar surges for the next several years.
Of course, this isn't to say that every gold miner has caught a windfall.
What many investors don't realize is that fewer than 5% of mining projects actually get developed into producing mines.
Some never get drilled, some turn up dry holes, some run into regulatory hurdles, some have issues with territorial claims...
Any number of things could go wrong.
And that's why investing in mining upstarts is so risky. But it's also why the companies that actually find success become so valuable.
When junior miner companies do strike, they strike it big with stock valuations that shoot up by factors of 10.
Now, because investing in junior miners has a tendency to be profitable but perilous, we've compiled this report with the three best junior miner stocks on the market today. If you're looking to invest in the high-risk, high-reward junior mining space, this is the place to start.
These are companies with strong management teams, high-quality assets, and formidable balance sheets.
Don't get me wrong: These stocks are not "sure things." But they do stand above the competition, and they have a better-than-average chance of going the distance...
B2Gold Corp. (TSX: BTO)(NYSE: BTG)
B2Gold Corp. is a Vancouver-based gold producer with three operating mines (two in Nicaragua and one in the Philippines) and a strong portfolio of development and exploration assets in Namibia, Nicaragua, Mali, Burkina Faso, and Colombia.
B2Gold posted record-high production of 246,000 ounces in the second quarter of 2019.
The company also reported consolidated gold revenues of $310 million on sales of 236,282 ounces, and adjusted net income of $52 million ($0.05 per share)
This is largely due to higher productivity and cost efficiency.
For the second quarter of 2019, the Fekola Mine produced 113,897 ounces of gold, exceeding budget by 10% (10,272 ounces), and the Masbate Mine produced 57,572 ounces of gold, exceeding budget by 7% (3,587 ounces). Compared to the prior-year quarter, gold production increased by 2% (5,927 ounces), while consolidated gold production from continuing operations totaled 208,890 ounces in the second quarter of 2019.
Strong revenue and profit figures will come hand-in-hand as the company meets these expectations.
B2BGold is in the midst of a production boom and should go string for years to come. With it's relatively low all-in sustaining costs and fully developed mines, it will handsomely profit from gold even if prices pull back.
If gold prices surge, expect share prices to surge with them.
Roxgold Inc. (TSX: ROXG.TO)
Roxgold is a gold mining company with its key asset, the high grade Yaramoko Gold Mine, located on the Houndé greenstone belt in Burkina Faso, West Africa. The company declared commercial production on October 1, 2016.
The 55 Zone mine is currently in production and is expected to produce between 145,000 and 155,000 ounces of gold in 2019.
Bagassi South, the company's first growth project is currently in development with commercial production expected to be achieved in the second quarter of 2019. The feasibility study outlines an after-tax IRR of 53.2% with a 1.8-year payback on initial capital, based on a gold price of $1,300 per ounce.
The company also has acquired 11 exploration permits in the Ivory Coast from Newcrest for up to $30 million. The one with the highest potential is the Seguela gold project, which Newcrest has already invested $20 million in for exploration.
The Antenna deposit in Seguela already contains inferred resource of 430,000 ounces of gold within 5.8 million tonnes grading 2.23 grams of gold per tonne.
High-grade drilling results hint at the potential for far more at high grade and relatively close to the surface.
Sеguеla has the potential to become Roxgold's second major project after the Yaramoko gold mine in Burkina Faso.
While it is exploring the potential of these new potential mines, it is also performing extremely well at producing gold.
Gold production in 2019 is expected to fall between 145,000 ounces and 155,000 ounces, up from 126,990 ounces in 2017 and 132,656 ounces in 2018.
At the same time, it's operating costs are steadily shrinking, freeing up even more cash flow for its new exploration projects.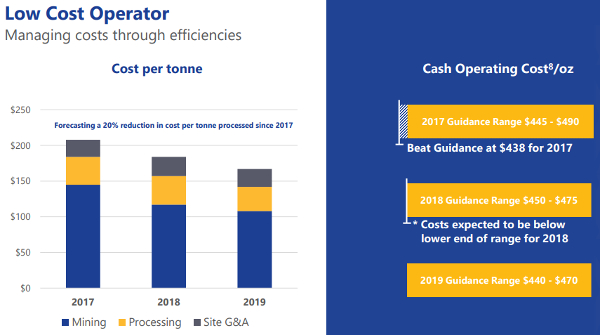 Roxgold has a strong 22.4% return on equity and a net cash flow of $22 million — plenty to keep drilling and a lot of wiggle room for any fluctuations.
In 2019, Roxgold expects its Yaramoko and Bagassi South mines to have cash costs of $440 to $470 per ounce and all-in sustaining costs of $765 to $795 per ounce. It can essentially print its own money even if gold prices significantly drop.
As it explores and adds to its reserves, it can steadily develop mining operations, add significantly to reserves it can exploit in the near-term, and push share prices significantly higher.
Alacer Gold Corp. (ASR.TO)
Alacer Gold Corp. is a Denver-based mid-sized gold producing company that operates the world-class Çöpler Gold Mine in eastern Turkey.
Çöpler has proven and probable reserves of almost 3.7 million contained ounces, and measured and indicated resources of almost 5.6 million ounces of contained gold.
At current production estimates, the mine should be producing for a total of 20 years.
2018 was a pivotal year as Alacer ramped up production and operating cash flows.
The mine produced 170,865 ounces of gold in 2018. That is poised to surge this year with consolidated production guidance for 2019 at 320,000 to 380,000 ounces.
The mine also has great all-in sustaining costs of $675 to $725 an ounce. With this level of cost and the production surge on its way, the company is expected to become a strong cash flow generator in the very near future.
Alacer is continuing to expand the mine with exploration drilling in satellite deposits. Strong results will significantly expand reserves and continue the trend of dropping all-in sustaining costs.
This is a simple play on gold prices remaining steady or rising long-term as the company defines the resources it has and increases production. Expect this company to generate consistently higher revenues and profits for many years to come.
Agnico Eagle set another record for payable gold production in 2013 at 1,099,335 ounces of gold, with total cash costs per ounce of $672 on a by-product basis. The significant improvement in gold production was a result of strong operating results from all of our mines, in particular the Meadowbank mine. In 2014, payable gold production is expected to be approximately 1,400,000 ounces, while total cash costs per ounce are expected to be approximately $663 on a by-product basis. - See more at: http://www.agnicoeagle.com/en/Operations/Pages/Production-Summary.aspx#sthash.pFyaNpiW.dpuf
Conclusion
The bottom line: We're entering a period where gold demand is increasing but where it's also much harder to find thanks to lower production targets and declining asset quality.
Generally speaking, junior gold miners are a risky proposition, but they offer incredible returns due to their leverage.
Companies that have a greater chance of making a discovery will fetch higher prices. So, too, will quality deposits with robust economics.
Consolidation is ramping up, as well.
Larger world-class miners are looking to scoop up profitable assets while they're still cheap. We've already seen some acquisitions this year and more are likely to follow.
Just remember: The most successful prospectors aren't interested in mining their shareholders' pockets. This is often because they're large shareholders, as well, which means that management isn't interested in frivolous spending or dilution. Skin in the game is important. And so is experience.
There are good deposits out there. It just takes time and research to find them.
If you can weed out the 99% of companies that will never mine or sell anything, then you have a good shot at harnessing the most explosive upside this segment has to offer.
Companies like B2Gold, Roxgold, and Alacer will play pivotal roles in this emerging opportunity.
Don't miss your chance to take part.
To your wealth,
— Outsider Club Research Team