There's an extraordinary opportunity unfolding for energy investors today...
Goldman Sachs is calling it "the new gasoline."
The Economist has called it "the world's hottest commodity."
Energy experts have dubbed it the "oil" of the future.
I'm talking about lithium: a one-of-a-kind element used in consumer electronics, computers, and communication — think everything from cellphones all the way up to electric vehicles... basically anything necessitating a compact, rechargeable power source.
Right now, lithium prices are heading back up after a pullback from an extremely aggressive increase in price.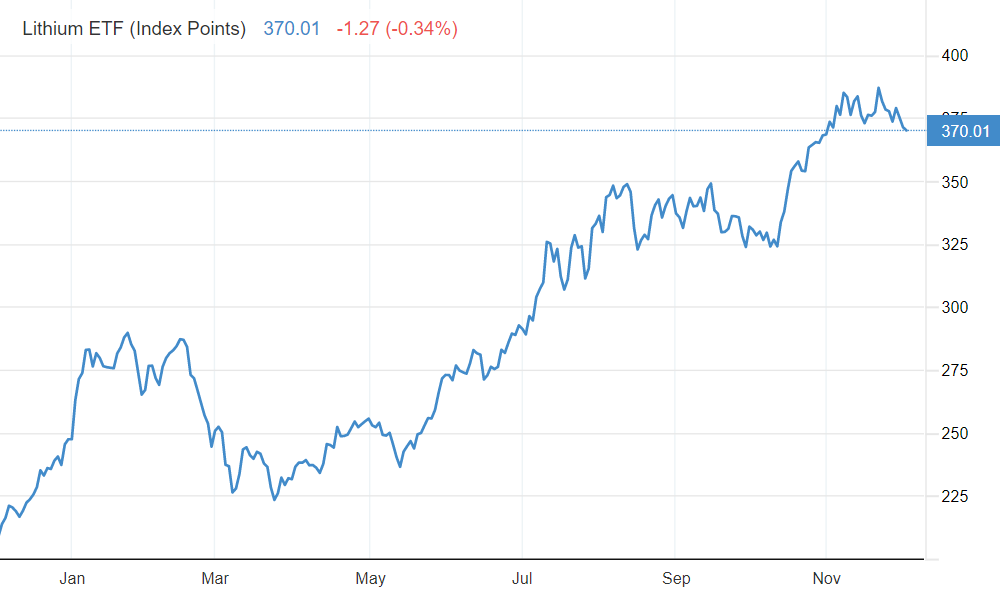 Demand is going to soar in the coming years. The main driver for this explosive lithium growth is the rechargeable battery sector.
Rising prices of lithium, cobalt, and carbon are not a bubble. They are underpinned both by rapid growth in electric vehicle sales and tight supplies.
Electric vehicles (EVs) are expected to make up 35% of the automotive market by 2040. Just as importantly, long-range electric cars will cost less than $30,000 by 2023, as promised by Elon Musk.
Again, this all goes back to batteries, which have seen a huge reduction in cost that will continue.
Estimates indicate that the cost of "fueling" electric vehicles is a fraction of the cost for conventional gasoline vehicles. The cost to charge an EV is around $0.14 per kilowatt-hour, while a gallon of gas currently averages $3.38.
The average lifetime maintenance cost of an EV is roughly $4,600, while the average gas car costs twice as much - $9,200 on average - in mechanic bills over its lifetime. .
In addition to being cheaper, these batteries are also more efficient. New and second-generation plug-in models can go farther on a single charge than their predecessors. And this is key.
The Tesla Model S has a 400-mile range. Audi's Q4 e-tron is up near 300 miles of range and is already considered the cheapest electric Audi, starting at around $45,000.
These technological advancements have accelerated sales. Furthermore, they've demonstrated a significant competitive advantage for car companies. It's a race to build the best battery. The manufacturer with the most efficient — the most cost-effective and potent — battery wins.
Furthermore, such batteries are essential for renewable energy sources, specifically wind and solar. The need to store power for prolonged periods requires the kind of industrial-grade capacity that only advanced lithium batteries can deliver. That's added another nice tailwind to lithium demand.
Data compiled by Allied Market Research suggests that the global lithium-ion battery market is expected to grow at a compound annual growth rate of 18% to reach $129.3 billion by 2027.
Via Forbes
So how can investors play it?
Supply Situation (and Investment Opportunities)
Just five companies produce most of the global lithium supply:
Albemarle Corporation (NYSE: ALB)
Sociedad Química y Minera de Chile (NYSE: SQM)
Livent Corp.

(NYSE: LTHM)

Ganfeng Lithium

(OTC: GNENF)

Tianqi Lithium, which trades on the Shanghai Stock Exchange with no OTC market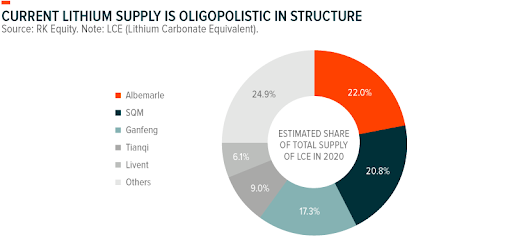 Albemarle owns and operates a mine at the Salar de Atacama project in Chile and the Silver Peak mine in Clayton Valley, Nevada. Albemarle is a $14.33 billion market cap diversified chemical corporation and is not a pure play on lithium production, though it is positioning itself as the face of the lithium mining industry.
SQM also operates in the Salar de Atacama, with a project adjacent to Albemarle's. It has run into political and legal problems in both Chile and the U.S., and the life of its mine could be reaching an end in the next five years. It is a diversified mining and chemical company and not a pure play on lithium.
Livent, on the other hand, is a pure lithium play - its business is split between lithium brine production from the Salar del Hombre Muerto in Argentina, and the processing of that brine into various lithium-based products.
Ganfeng is also a pure play - and China's largest lithium producer. It has mining operations in Australia, Argentina, Mexico and China - and recently inked a 3-year supply contract with Tesla.
Tianqi operates open-pit mines and lithium refining facilities in Western Australia.
These stocks have done rather well recently; each of them is outperforming the S&P 500 (the thinner blue line in the chart below) this year.
Orocobre (OTC: OROCF)is the largest lithium mining company in Australia by market capitalization, and sources lithium from the Olaroz Lithium Facility in northern Argentina.
Pilbara Minerals (OTC: PILBF) developed the Pilgangoora project in the iron ore-rich Pilbara region of Western Australia. The lithium-tantalum project is 100% owned by Pilbara and is one of the largest hard-rock lithium deposits in the world.
The Pilgangoora project is currently in Stage 2 of a three-stage expansion process for the mine. Company reports have stated that it is waiting until "such time that market demand and/or participation of a partner at Pilgangoora is sufficient to justify its development."
You can stay up to date with Pilgangoora project developments right here.
Both stocks have posted impressive performances this year…
As lithium demand increases over the years, Pilbara's stock price should follow suit.
There's also the Global X Lithium & Battery Tech ETF (NYSE: LIT), which seeks to track lithium's price movement.
The fund is a great way to track the overall lithium market while investment and demand grow over the next few years into unparalleled territory in the coming decades.
Included in the holdings of the ETF are miners, chemical companies, battery manufacturers, and other industrial companies.
By diversifying the exposure to lithium, the Global X Lithium & Battery Tech ETF provides investors with less risk and the potential for long-term reward.
— The Outsider Club Research Team