Investors are betting on a U.S. future powered by renewables. Bolstered by the Biden administration's push to halve carbon emissions by 2030 and create a carbon pollution-free power sector by 2035, U.S. energy companies are gaining traction. And as the Senate passed the Infrastructure Investment and Jobs Act this year, billions of retail and institutional dollars are pouring in.
But there are more factors creating a tailwind for the sector than just a new energy-focused administration in Washington...
Millennials are impacting the direction of the market too. Bank of America's 2019 annual survey found that 90% of millennials said impact investing was their top investing strategy, with their No. 1 investing theme being climate change.
Like it or not, environmental, social, and corporate governance (ESG) investing — investing in companies committed to ethical and environmentally sustainable business practices — has become widely popular as younger generations invest more. It started as an investing theme but has since become more of a common-sense investing strategy since so much money is flooding into companies following ESG principles.
And even though renewable stocks had a blowout year in 2020, most U.S. energy companies are still undervalued by 15%–20%. This bodes well for energy investors.
Let's take a look at three funds you'll want exposure to as renewable energy powers the U.S. and the world.
First Trust Nasdaq Clean Edge Green Energy ETF (NASDAQ: QCLN)
Why pick only one clean energy stock when you can get access to dozens through an exchange-traded fund (ETF)?
Just look at the outperformance of the First Trust Nasdaq Clean Edge Green Energy ETF, an index fund comprised of clean energy, lithium battery, and electric vehicle stocks, compared with the S&P 500 and the Nasdaq. It even beat Cathie Wood's fabled ARK Innovation ETF (NYSE: ARKK)...
The ETF tracks the performance of the Nasdaq Clean Edge Green Energy Index, a market cap-weighted index tracking the performance of manufacturers, developers, distributors, and installers of clean energy technologies.
It holds the top clean energy plays today, including all-stars like Tesla (NASDAQ: TSLA), Nio (NYSE: NIO), Enphase Energy (NASDAQ: ENPH), Plug Power (NASDAQ: PLUG), and First Solar (NASDAQ: FSLR).
Although the fund comes with relatively high risk, it's returned 133% year over year. It's since given back some of those gains, giving investors a good entry point to capitalize on the coming clean energy boom.
IShares Semiconductor ETF (NASDAQ: SOXX)
We can't talk about America's energy usage without mentioning vehicles and the semiconductors required to produce them.
That's because as consumers demand more technological innovations from their vehicles, semiconductor chips are used to supply them.
Here's a breakdown of what semiconductor chips control in modern vehicles...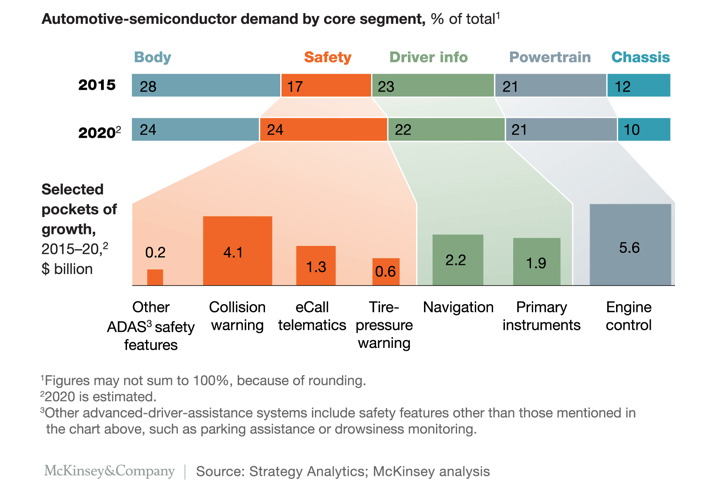 But now that COVID-19 has created a semiconductor chip shortage from chip factories shutting down, car manufacturers haven't been able to produce as many vehicles.
Ford (NYSE: F) just announced it's cutting production of its F-150, its most profitable vehicle, due to the chip shortage. In the second quarter of 2021, Ford lost 50% of its planned production.
But demand is still high, especially with the enthusiasm behind electric vehicles, and demand has outstripped supply, causing an obvious rise in semiconductor prices. And when factories reopen in full, it'll be a boon for companies designing, manufacturing, and distributing semiconductors.
That's exactly what the iShares Semiconductor ETF tracks. More importantly, it targets domestic semiconductor stocks, so you can feel good about investing in U.S. infrastructure.
The fund holds U.S. blue chip energy stocks like NVIDIA (NASDAQ: NVDA), Broadcom (NASDAQ: AVGO), Intel (NASDAQ: INTC), and Texas Instruments (NASDAQ: TXN).
The ETF has an average annual return of 11% since its inception and returned 69% last year, offering a more conservative, broad exposure to the clean energy market.
IShares Global Green Bond ETF (NASDAQ: BGRN)
For an even more conservative play on renewable energy, try the iShares Global Green Bond ETF, which tracks the best global investment-grade bonds issued to fund environmental projects.
As bond investing has become a lost art, fund managers have created ETFs to track the performance of bonds without investors ever having to purchase them.
The iShares Global Green Bond ETF isn't a pure play on American renewable energy, but you get exposure to global treasuries from countries like Belgium, France, Germany, and Italy, in addition to corporate bonds of companies like Apple (NASDAQ: AAPL) and Tencent (OTC: TCEHY).
This bond ETF is a win-win, as it allows you to essentially finance the green energy revolution through fixed income.
It's returned roughly 16% since its inception, making it a viable addition to any fixed-income portfolio.
Outsider Club, Copyright © 2022, Outsider Club LLC and Angel Publishing LLC. All rights reserved. 3 E Read Street, Baltimore, MD 21202. Your privacy is important to us – we will never rent or sell your e-mail or personal information. Please read our Privacy Policy. Neither the publisher nor the editors are registered investment advisors. Subscribers should not view this publication as offering personalized legal or investment advice. Read our Details and Disclosures.