Take a deep breath of fresh air.
Our environment just might get a little cleaner very soon.
And it's all thanks to our pals in Washington... sort of.
President Biden signed the Infrastructure Investment and Jobs Act into law, which means $1.2 trillion is going to get printed and pumped into the economy.
If you can smell the roses through that mask over your nose, good for you.
For the rest of us, it's been a difficult couple of years.
Lockdowns, mask mandates, rising grocery prices, getting killed at the gas pump.
Now we can start to see a light at the end of tunnel, albeit a tiny light with many more dark miles ahead.
But electric vehicles (EVs) are lighting the way.
The new legislation will allocate $7.5 billion to zero- and low-emission buses and ferries, with the intention of delivering thousands of electric school buses to districts across the country.
Another $7.5 billion will go toward building a nationwide network of EV charging stations.
Look, we don't ever want to put all our eggs in one basket, but the EV market is going absolutely gangbusters.
Amazon-backed Rivian (NASDAQ: RIVN) is up 50% year over year, and that's with zero revenue.
Tesla's (NASDAQ: TSLA) market cap rose to more than $1 trillion in 2021, even with its abysmal turnaround times on order fulfillment.
And Lucid (NASDAQ: LCID) is up some 450% year over year.
Here's the problem with these companies, though. They're operating within walled gardens, meaning they have a closed ecosystem that's pricing out the average U.S. consumer. The vehicles are intended for the top 1% of wealth earners, mainly those residing in California or where charging stations abound.
The majority of Americans can not and will never be able to afford these overpriced EVs. All three companies have vehicles costing more than $100,000!
And I don't know about you, but if I'm spending 100 grand on a car, it better be a Porsche.
That's why it pays to invest in the companies working for the average American consumer.
It may seem counterintuitive, but the real growth stocks of the EV infrastructure revolution are the blue chip car manufacturers, EV trend setters, and infrastructure stalwarts.
True growth in this market comes from forward earnings estimates and advertisements, and the following companies have cornered the market.
Ford (NYSE: F): A Backdoor Infrastructure Play
Why We Like It and You Should Too...
At the United Nations Climate Change Conference (COP26) in November, Ford announced that it's phasing out the production of gasoline and diesel vehicles by 2040.
It's a huge undertaking for the manufacturer of the best-selling truck of all time, the F-150.
Now that truck's going electric.
As the new truck already has 150,000 pre-orders, that's $6 billion in revenue if we price just the cheapest model at $40,000.
One glaring problem with EVs is the time it takes to charge them. The industry standard chargers take 20–40 minutes to reach an 80% charge.
But Ford just released a proprietary charging cable that takes five minutes to produce a full charge.
Ford's seeing dollar signs.
But investors still haven't caught on yet.
Where the Money's Flowing...
In fact, insiders at the company – that's the CEO, directors, and top-level executives – own only 0.1% of the stock.
The stock's undervalued compared with its competitors, which makes Ford a screaming "Buy."
There's plenty of institutional support behind the company, but new institutional positions decreased by 31.6% in the third quarter of 2021.
Momentum Behind the Stock...
Using a simple 100-day exponential moving average (EMA) calculation, we can see that the stock's been in a consistent uptrend since the beginning of 2021.
When the stock's price remains above the 100-day EMA, it's a sign the bulls are in control.
Now, technical analysis is never foolproof and outside factors can influence a stock's price, but it's always good to keep certain indicators in the back of your mind.
This is an indication that momentum is behind the company and the stock could reach an all-time high once revenues increase from EV sales and soft infrastructure products like its patented charging cable.
Canoo (NASDAQ: GOEV): The Next Tesla
Why We Like It and You Should Too...
Wall Street loves disruption, and the car market still needs more of it as carmakers have been out of touch with reality for years, selling overpriced vehicles and using predatory lending practices.
That's why Tesla is the Street's darling and being hailed as the blue chip EV maker.
Sure, the company's cornered the EV sedan market for now, but it hasn't cornered sports cars or trucks. And with so many EV companies coming online, it's hard not to place some bets on the next big thing.
The little-known EV maker Canoo is making waves.
It began by marketing its "Lifestyle Vehicle" as a way to capture the attention of a younger audience — one that doesn't want to pay sky-high rental prices or take on a mortgage. The company describes it as a "loft on wheels."
We all know or have seen someone who travels around the country working remotely. No rent, very little bills. These #vanlifers are raking in the dough.
Canoo's vehicles are also popular for food truck owners and delivery drivers. And the company's making them affordable to the average consumer, with trucks starting at $30,000.
Where the Money's Flowing...
Call volume is directionally bullish, as Canoo recently announced a battery deal with Panasonic (OTC: PCRFY).
Vanguard, BlackRock, Bank of America, and Citadel have all increased their positions this year. In total, hedge funds have increase their positions by 100% in the second quarter of 2021.
Momentum Behind the Stock...
The week of November 15, the stock rose more than 40%, causing some traders to get out of their positions. That was a mistake because momentum has been slowly building for this company.
Canoo announced that it's moving its headquarters to Walmart's hometown of Northwest Arkansas while building more facilities in Oklahoma. These sites offer $100 million in economic and tax incentives, which investors cheered.
The company beat third-quarter earnings estimates, losing $0.35 a share instead of the analyst-estimated $0.44 a share — impressive for a company with a $2 billion market cap and no revenue.
It also said it would begin production of its first vehicle sooner than expected, before the fourth quarter of 2022.
Volta (NYSE: VLTA): Leading the EV Infrastructure Charge
Why We Like It and You Should Too...
The big infrastructure hurdle for EVs to compete with fossil fuel-burning vehicles is to have charging stations that are as available and reliable as gas stations.
According to the American Petroleum Institute, there are over 150,00 fueling stations in the U.S.
EV charging stations have a long way to go, as there are just 43,000 in the U.S.
The good thing about EV charging stations is that they don't take up a lot of space.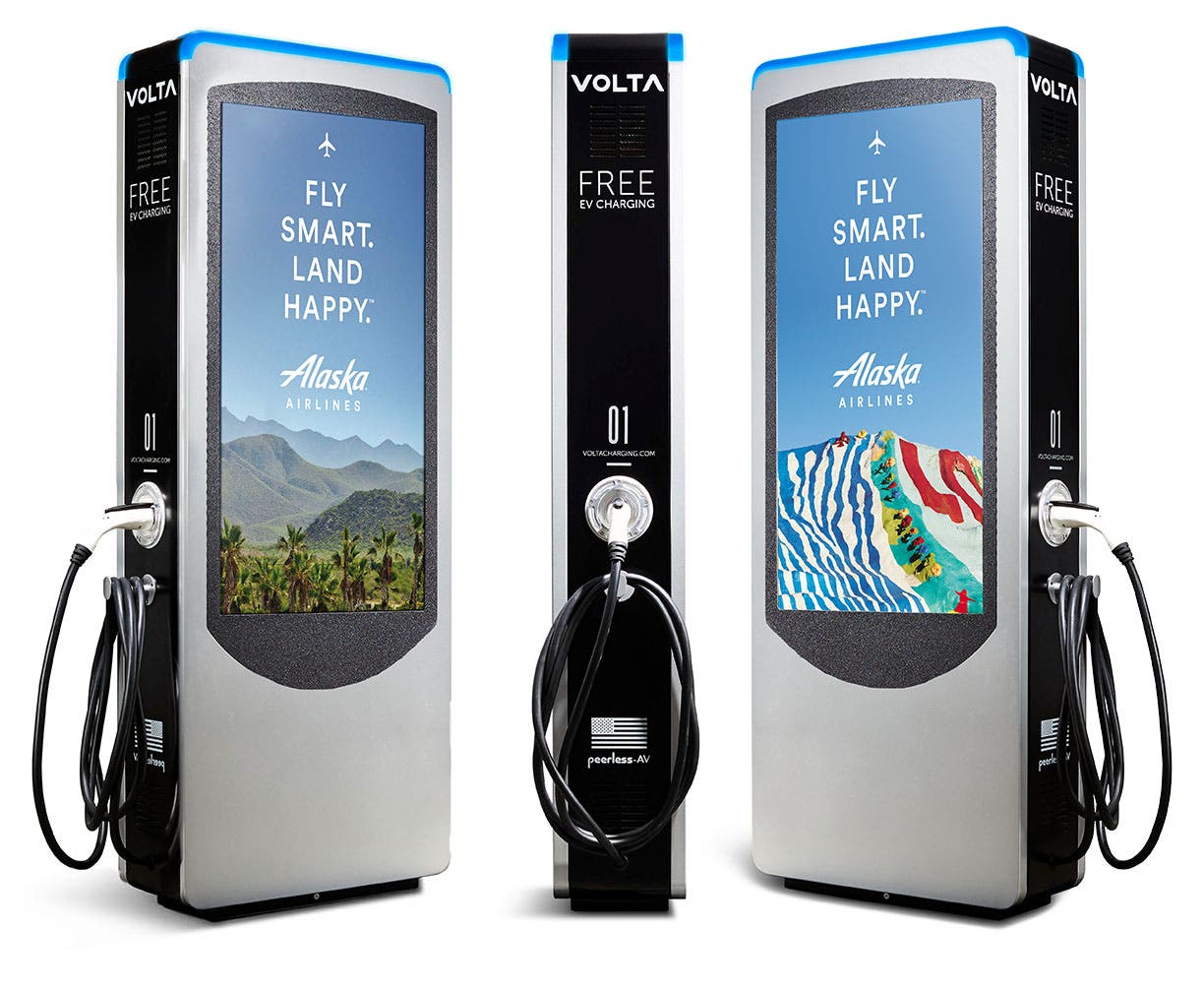 You don't need tanks filled with gasoline underground. And they are more scalable, so you can install them in parking lots, shopping malls, or apartment complexes.
Volta is a leader in the space, offering advertisers the ability to promote products on their charging stations while consumers charge up.
The company notes, "Our stations double as an ad platform that increases the value of real estate by engaging new audiences and telling high-impact stories using sustainable technology."
Investors love it, pushing the stock up 58% month over month.
The charging stations feature digital screens that let advertisers engage potential customers before walking into a store.
According to Volta's brand studies, advertising increases awareness, consideration, and purchasing intent.
Advertisers are seeing green.
Where the Money's Flowing...
Call volume is above normal and directionally bullish for the stock.
Bank of America, Citadel, and UBS have all added to their positions in Volta for the recent quarter, so institutions are starting to get on board.
Insiders own 17.9% of shares, and insider transactions are up 26% in the recent quarter.
Insiders purchase only if they are bullish on the stock, so it's a good indication for the future prospects of the company.
Momentum Behind the Stock...
Volta was founded in 2010, so it's had time to perfect its charging stations.
The stock sold off in October but came roaring back after the infrastructure bill was signed into law.

As long as the price stays above the 100-day EMA, the bulls have control.
Bonus Metaverse Pick
EVs and the metaverse have more in common that you may think at first blush.
Think about all the technology that goes into vehicles these days: Apple CarPlay, heads-up displays, fancy screens, electronic controllers, batteries.
The companies that supply these technologies are also on the front lines of the metaverse.
So a no-brainer play is the Roundhill Ball Metaverse ETF (NYSE: META), which tracks all the leaders in the space.
Let's make history together.
To your wealth,
The Outsider Club Research Team