Defense contractors are on a hot streak the likes of which we haven't seen since Donald Trump first took office. 
Back then, the president's pledge to go on the offensive with the military sent defense stocks soaring as soon as November 9, 2016 — the day after he was elected.
Since then, the SPDR S&P Aerospace & Defense ETF (NYSE: XAR) has nearly doubled. Almost every company in the industry is posting amazing returns.
And is that any surprise? In the past six years, violence has broken out all over the world. Most recently, Russia has reminded everyone how critical military spending can be. 
No doubt, global tensions have been on the rise for some time now.
And in response, so are defense budgets...
Global defense spending recently rose to a staggering record height of $2.113 trillion.
We haven't seen levels like that since the end of the Cold War.
And as always, the U.S. is leading the charge. 
This year, the Senate approved a record defense budget of $858 billion for 2022–2023. That's $45 billion more than the Biden administration requested and 10% higher than last year. 
To put that into perspective, Congress only authorized $711 billion for defense back in 2018 during Trump's administration. A year before that, former President Barack Obama was only granted $580 billion.
Defense spending in the U.S. is on a decade-long bull run with no end in sight. 
And as we all know, a huge portion of that money goes directly into the pockets of defense contractors. 
They've outpaced the market for years now, and that's not going to stop anytime soon. 
Here are our top three picks for the sector:
Lockheed Martin Corporation (NYSE: LMT)

General Dynamics Corporation (NYSE: GD)

Northrop Grumman Corporation (NYSE: NOC)
1. Lockheed Martin Corporation
Lockheed Martin Corporation (NYSE: LMT) is the world's largest defense contractor, and its stock jumped by 11% in the last year.
Lockheed's Aeronautics division reported a record $26.7 billion in sales during 2021 alone — 142 F-35 fighters and 22 C-130J tactical transports. In total, the company raked in $65.4 billion.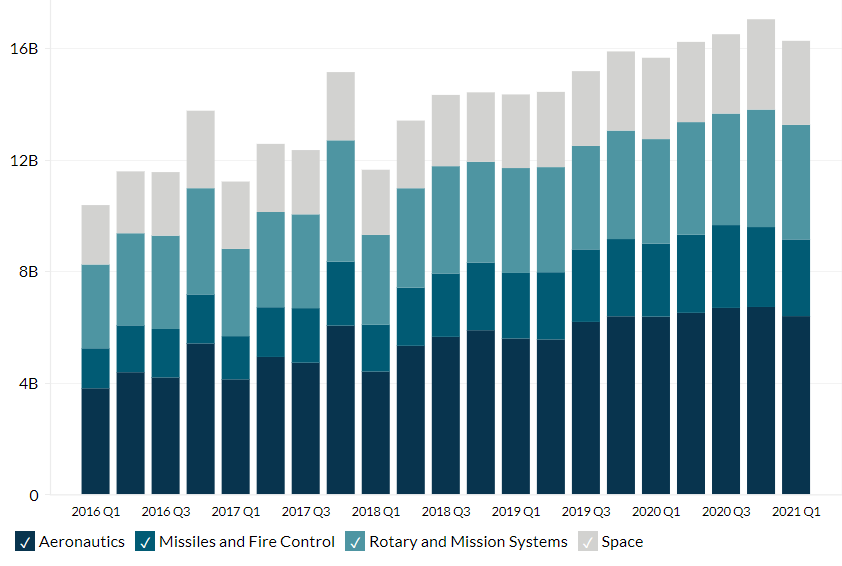 More than 750 planes have already been delivered, and approximately 1,585 pilots and 11,545 maintainers have been trained. All together, the world's F-35 fleet has flown nearly 470,000 cumulative flight hours.
In total, thousands of aircraft will be added to the U.S. arsenal over the next few years, with hundreds more going to U.S. allies around the world. 
For example, Japan recently got the green light for a huge $23 billion order. Several military leaders in the U.K. have also placed their orders for a short takeoff vertical-landing variant of Lockheed's F-35. Both Japan and the U.K. are already buying scores of the conventional takeoff version, dubbed the F-35A. But having the F-35B in their arsenals would enable them to deploy the stealth fighters from ships, not just from land bases.
F-35 sales have netted Lockheed hundreds of billions so far, but the company is far from a one-trick pony. One of its newest ventures could put the entire defense industry out of business. 
This beauty is a hypersonic missile. While the F-35 can reach an impressive 1,200 mph, Lockheed's newest pride and joy can reach absurd speeds of 3,500 mph. That's more than five times the speed of sound. 
That's fast enough to level an enemy hideout seconds before any modern missile defense systems can react. You wouldn't even hear it coming. 
The F-35 is still raking in sales left and right, but Lockheed is calling this new missile the "future of defense technology." And in my opinion, it's absolutely right. 
As soon as one country successfully adds hypersonic technology to its arsenal, the entire planet will follow suit — or risk being caught at a disadvantage. 
This doesn't exactly inspire confidence for world peace anytime soon, but it's incredibly bullish for Lockheed Martin. The hypersonic missiles themselves are only the beginning. 
Next, we will need anti-hypersonic defense systems, advanced tracking systems, and a huge range of other complimentary systems. This new standard will practically demand a complete overhaul of the world's military. 
And if by some miracle we do achieve world peace, Lockheed won't go bankrupt. The company has been making a serious effort to break into the broader tech sector.
Engineers at Lockheed Martin's Advanced Technology Center (ATC) in California designed and constructed a sophisticated piece of optical technology called NIRCam, which serves as the primary imager aboard the new James Webb Space Telescope. 
Much of the technology under development at Lockheed can easily be used in the private sector. But since humanity doesn't seem to be giving up war anytime soon, I expect the next five years to be an incredible bull run for the defense industry as a whole.
2. General Dynamics Corporation
General Dynamics Corporation's (NYSE: GD) business can be broken into four main segments:
Aerospace — jets and other aircraft




Combat systems — tanks, combat vehicles, and light armored vehicles




Information systems and technology (IS&T) — secure communications, command, and control systems, imagery sensors, and cyber tools




Marine systems — complex ships like nuclear submarines
There's no shortage of lethal machinery at General Dynamics. But the company's true goal is to become the government's leading IT provider — with a few armored vehicle sales on the side.
So far, the U.S. government seems to be on board. General Dynamics just landed a massive $908 million eight-year contract to modernize IT systems in Europe and Africa. 
A few weeks before that, the Army tossed the company another $1.1 billion for nearly 100 Mobile Protected Firepower vehicles. As you can see, General Dynamics has no shortage of business.
Since the defense budget has recently ballooned to unprecedented levels and the world only recently realized how terrible our cybersecurity is, much of that money will be spent modernizing federal IT systems.
According to the diligent analysts at Gartner, global government IT spending is expected to grow 6.5% in 2022. In total, the government will dish out $557.3 billion in an attempt to prevent a recurrence of last year's ransomware attacks. 
The Department of Defense (DOD) has begun shopping a $9 billion cloud initiative known as Joint Warfighting Cloud Capability (JWCC). It seeks to streamline and centralize the labyrinth of often incompatible and inaccessible databases into one cloud-based data cache that can be accessed on the front lines of battle, where information is at a premium.
These are some big fish that could secure not just the one-time contract to build the cloud but also years of recurring support and development revenue. It's a major opportunity. And it's bringing in big tech names, such as Amazon and Oracle, as well as rival defense contractors.
But by establishing itself as the go-to IT maven for the Pentagon, General Dynamics has carved out a firm foothold for itself to contend with those massive projects.
According to company financials, General Dynamics recently reported a massive $129 billion contract backlog. The government just keeps sending the company more and more lucrative deals — how can management say no?
So while GD makes missiles, armored vehicles, and submarines, it's also looking to cyberspace for added growth.
3. Northrop Grumman Corporation
Northrop Grumman Corporation (NYSE: NOC) is another defense behemoth.
Its core capabilities include:
Logistics solutions

Autonomous systems — drones, satellites, and space systems

Strike — such as the B-2 Spirit stealth bomber

Cyber

C4ISR (command, control, communications, computers, intelligence, surveillance, and reconnaissance)
Northrop Grumman saw Lockheed Martin reinvent military technology with its hypersonic missile and felt left out. The only logical response was to raise the bar even higher. 
Northrop Grumman just announced completion of the preliminary design review for its high-energy laser prototype under the Department of Defense's High Energy Laser Scaling Initiative (HELSI). 
According to reports, the architecture of the system is scalable up to a megawatt — enough juice to power a small town for a year. The picture above is an artist's rendition, but it might not be science fiction for long. 
Last year, the U.S. Air Force selected Northrop Grumman to watch over its intercontinental ballistic missile defense shield. The company will continue its role as the Minuteman III intercontinental ballistic missile (ICBM) Ground Subsystems Support Contractor (GSSC). 
The award has a potential ceiling of $3.86 billion over 18 years.
On top of that, Northrop Grumman has seen a steady stream of revenue from aviation products like the MQ-4C Triton and the E-2D Advanced Hawkeye.
The Triton is a drone that provides real-time intelligence, surveillance, and reconnaissance (ISR) over vast ocean and coastal regions. The units have been flying successfully since November 2017.
The Navy has ordered 68 Triton aircraft in total.
The Hawkeye, meanwhile, is often called the "digital quarterback" of the battlefield. It monitors the surrounding area and communicates to battle groups to keep them out of harm's way.
NOC has set itself up very, very well, no doubt.
An Urgent Message Before You Go
The Ukrainians are not only wiping out hundreds of Russian invaders every single day...
But they're also destroying Russian military equipment worth billions of dollars.
Ukrainians are turning the tides of the war in the blink of an eye…
And it's all thanks to THIS special "gift" from the Pentagon.
This cutting-edge U.S. tech outclasses anything in Russia's arsenal.
That's why Putin is no longer a threat to America. He's already dug his own grave.
There's only one nation left that could challenge the U.S. military. 
It already has the ONE weapon America fears most.
Sincereley,
Jason Simpkins
P.S.: There is a lot more FREE actionable investment analysis and commentary on our YouTube channel. If you want a leg up in 2023, then you should definitely subscribe and take advantage of the free content we've laid out for you. Just click here.
@OCSimpkins on Twitter
Jason Simpkins is Assistant Managing Editor of the Outsider Club and Investment Director of Wall Street's Proving Ground, a financial advisory focused on security companies and defense contractors. For more on Jason, check out his editor's page.