Open This to Make 1,000% on Medical Marijuana Stocks
Posted July 24, 2018 at 8:00PM
---
I'm excited to announce that we're holding our first-ever live summit.
I'll be hosting it next week along with our in-house marijuana investment expert, Jimmy Mengel.
It will be a 60-minute live master class on how medical cannabis is the biggest medical breakthrough in 220 years, and why early investors in it stand to make huge profits.
During the summit, Jimmy is going to reveal his "Power 3" cannabis investment strategy. It's the formula he's used for years to pick high-flying pot stocks.
The event is free to attend. It kicks off next Wednesday — one week from today — at 3pm ET.
All you need to do to attend is click this link.
You'll want to do that right away.
Because, in addition to revealing his winning marijuana investment strategy, Jimmy is also going to release his #1 medical marijuana stock recommendation that he believes could generate $1 million for you in the next few years.
You'll see why in the information-packed event.
It's the culmination of years of work and research.
Jimmy was one of the first newsletter writers to get on the inside of the cannabis industry. He was the first one to visit the grow facilities of Canopy Growth Corp. (NYSE: CGC).
That was back in 2015!
Canopy Growth has gone on to become the world's largest marijuana company and the first to be listed on the New York Stock Exchange.
And Jimmy got his readers in so early they made over 1,800%, riding it from $1.86 to over $36 per share!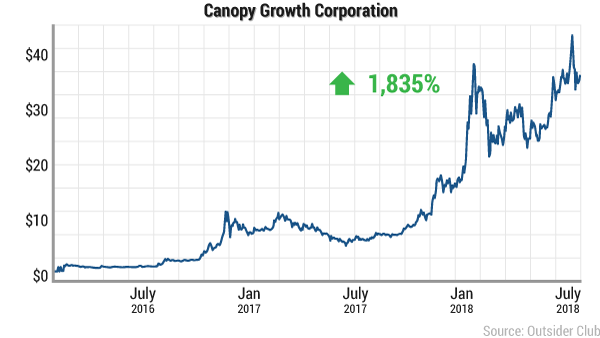 Gains like that turn every $10,000 invested into nearly $200,000.
And while the run may be over for recreational pot growers...
Jimmy thinks there are similar 10-bagger profits to be had in the medical cannabis space.
In our live summit next week, he'll share his top medical marijuana pick. One he thinks could soon spout off for 5,000% gains.
Click here to secure your spot in The Marijuana Millions Summit.
(Click here to attend.)
Jimmy has interviewed medical experts, CEOs of cannabis companies, NFL players, Rock and Roll Hall of Fame guitarists, and everyone in between about medical marijuana.
He's worked with dozens of doctors and edited several natural health publications. And all that experience paved the way for him to become one of the top marijuana investors in America today.
As he just told me:
"We're standing on the ground floor of medical cannabis now. Everyone else is talking about recreational cannabis. Medical is where the money is at." –Jimmy Mengel
He made nearly 2,000% in the first pot stock run up.
And he's guaranteeing you'll make at least 1,000% in the upcoming medical marijuana run.
But you have to attend the summit to get the info.
Click here to be put on the reservation list.
Call it like you see it,
Nick Hodge
@nickchodge on Twitter
Nick is the founder and president of the Outsider Club, and the investment director of the thousands-strong stock advisories, Early Advantage and Wall Street's Underground Profits. He also heads Nick's Notebook, a private placement and alert service that has raised tens of millions of dollars of investment capital for resource, energy, cannabis, and medical technology companies. Co-author of two best-selling investment books, including Energy Investing for Dummies, his insights have been shared on news programs and in magazines and newspapers around the world. For more on Nick, take a look at his editor's page.
You'll Never Be On the Inside!
So, join Outsider Club today for FREE! You'll learn how to take control of your finances, manage your own investments, and beat "the system" on your own terms. Become a member today, and get our latest FREE report: "Three Big Profit Opportunities in Solar"!
We never spam! View our Privacy Policy
After getting your report, you'll begin receiving the Outsider Club e-Letter, delivered to your inbox daily.