It's Bigger Than Hillary: China's Preparing For War
Posted August 30, 2018 at 8:00PM
---
Earlier this week, President Trump claimed on Twitter that "China hacked Hillary Clinton's private Email server."
Now, the FBI and China (not that they can really be trusted) both said that's not true. And Trump himself has been known to play fast and loose with the truth.
So, it's hard to know whether this particular accusation is factual.
But, at the end of the day, it doesn't matter.
You know why?
Because there's nothing on Hillary Clinton's email server that Beijing doesn't already know.
China knows what it wants, and it knows where to find it.
For example, in June, Chinese hackers gained access to U.S. submarine plans by hacking a Navy contractor's computer.
I guarantee you that those plans are more valuable to them than any nonsensical ravings found in Hillary Clinton's mail folder.
And that's not all.
China has been hacking government and corporate databases for more than a decade now.
In addition to the submarine schematics, it's stolen drone technology, weapons designs, battle plans, trade secrets, and even Google's source code.
In 2013, the American cyberintelligence firm Mandiant issued a landmark report on a Chinese espionage group it named "Advanced Persistent Threat 1."
The report said APT1 stole hundreds of terabytes of data from at least 141 organizations from 2006 to 2013. It also gave details of the operations and provided evidence linking those thefts to Unit 61398 of the People's Liberation Army, specifically naming five officers of the unit.
Still, APT1 is just "one of more than 20 APT groups with origins in China." So that's just the tip of the iceberg. And the United States isn't its only target.
In fact, Taiwan has actually been an even bigger victim of China's cyberarmy.
Officials there say the island endures hundreds of successful cyberattacks each year, with more than half coming from China. Most of those attacks are relatively benign, and involve changing websites and tampering with information. But there have also been more serious attacks on core systems.
They've also spiked over the past year, which is hardly a surprise.
China is determined to take Taiwan back. It's aggressively seizing territory from its coastal neighbors. And its ultimate goal is to kick the U.S. Navy out of its waters in the Pacific.
Furthermore, it's on track to achieve those goals by 2030.
To that end, the country is rapidly expanding its military.
In fact, China is the world's fastest-growing military power, with a defense budget that's expanded more than 650% over the past 25 years. The country now spends three times more on defense than Russia.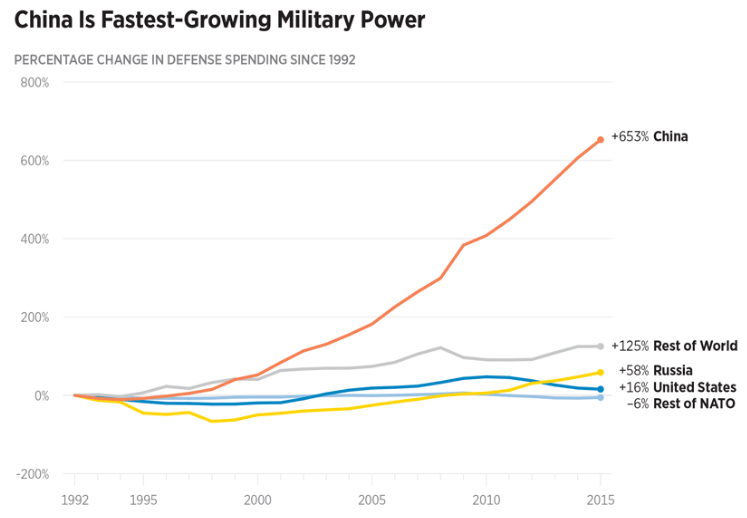 Now, a lot of analysts like to point out that the U.S. defense budget is still much larger than China's — $610 billion compared to $230 billion in 2017.
But there are two problems with that.
First, China's official defense data does not include the cost of buying military equipment from overseas, or research and development. It also hides a lot of spending in other places. (An opaque, one-party government can do that.)
And second, the U.S. defense budget is spread much thinner. Take that $610 billion, or even this year's projected $711 billion budget, and divide it among our NATO commitments in Europe, our ongoing wars in Iraq, Afghanistan, and the broader Middle East, our domestic defenses and military bases at home, and finally, the Asia-Pacific region.
The U.S. government doesn't break down its military spend by region, but I'd be pretty shocked if two-thirds of the total military budget was tied up in the Asia-Pacific alone. It's far more likely that we spend less than a third there. Even that would be somewhere in the range of $125 billion to $200 billion, which is definitely less than what China is spending.
Make no mistake, it's got home-field advantage.
And worse, that advantage is being exacerbated by a president who has trampled over allies like South Korea and Japan to embrace North Korea.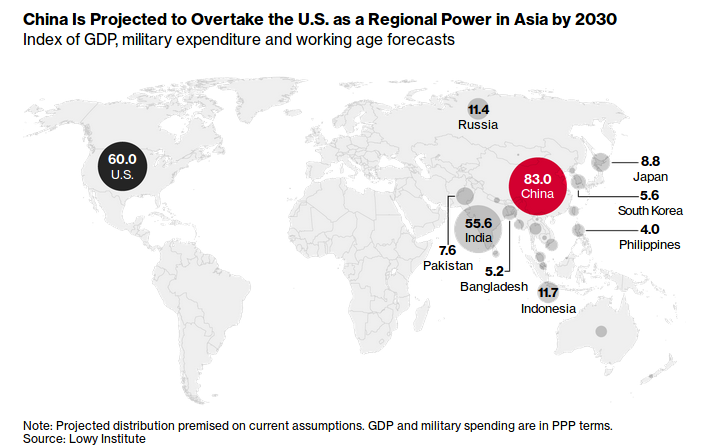 So, what were you saying about Hillary's emails again?
China has hacked every major U.S. firm from Silicon Valley to Wall St. It's breached classified systems at the Pentagon and stolen info from major U.S. defense contractors.
Investors can profit from this kind of activity in the short term by investing in cybersecurity stocks like the one I just recommended.
They can profit in the long term by preparing for the day that China finally decides to retake Taiwan and drive the U.S. from the waters it considers its birthright.
And they can do both by signing up for my newsletter, The Wealth Warrior, where I talk about this kind of stuff all the time.
That or just fret some more about Hillary's emails.
Fight on,
Jason Simpkins
@OCSimpkins on Twitter
Jason Simpkins is Assistant Managing Editor of the Outsider Club and Investment Director of The Wealth Warrior, a financial advisory focused on security companies and defense contractors. For more on Jason, check out his editor's page.
You'll Never Be On the Inside!
So, join Outsider Club today for FREE! You'll learn how to take control of your finances, manage your own investments, and beat "the system" on your own terms. Become a member today, and get our latest FREE report: "Three Big Profit Opportunities in Solar"!
We never spam! View our Privacy Policy
After getting your report, you'll begin receiving the Outsider Club e-Letter, delivered to your inbox daily.