3 Stocks Primed for a Short Squeeze
Time is running out...
Posted June 7, 2021
---
What goes down must come up.
At least that's the case with a short squeeze.
Short squeezes are one of the most powerful catalysts on Wall Street, with the potential to create massive windfalls for investors on the long side of the trade.
By now you've heard the hype surrounding "meme stocks" and the epic run-ups caused by r/wallstreetbets, which decimated hedge funds to the tune of more than $12 billion and counting.
Investors are now scrambling to pinpoint the next massive upside moves.
So get excited because we've done the work and uncovered three stocks in a budding industry primed for a short squeeze.
Now, you may think this industry is floundering or that the big money has already been made... but you need to pay attention because this squeeze is only going to happen once.
Here's what we know...
The Juice Is Worth the Squeeze
It all starts with options. Put simply, you buy calls when you think a stock will go up in price and puts if you think a stock will go down. But you can go all-in by shorting a stock when you think a company will trend severely down or go bankrupt.
Shorting is when you sell stock you don't currently own with the expectation of buying it back at a lower price.
Get it right, and shorting comes with perhaps the greatest upside in the market. Get it wrong, and shorting comes with the highest risk because there's no limit to how much you can lose.
Let's say you've been following Company X, trading at $100, and you believe its share price will get cut in half, so you short the stock.
You decide to borrow 50 shares of Company X from your broker and sell them into the market. You'd receive $5,000 for the sale ($100 share price x 50 shares = $5,000).
Let's say Company X falls to $50. You can then buy back the 50 shares for $2,500 ($50 share price x 50 shares = $2,500), return them to your broker, and net a profit of $2,500 ($5,000 - $2,500 = $2,500). Put another way, 50 shares decreasing by $50 equals $2,500.
If the stock instead goes up by $50, you multiply the loss of a $50 increase in share price by the 50 shares you borrowed, therefore incurring a loss of $2,500. You can see there's no limit to how much you can lose because the stock price can continue going up.
Shorting stock can be terrifying, and you can see the fear at play in "The Big Short" when Michael Burry's character shorts the housing market for $1 billion. He initially loses capital, and his clients are furious, demanding he reverse his position. When the market collapses, however, Burry's fund increases by 489% for a profit of more than $2.69 billion.
I would rarely recommend shorting — even though Coinbase (NASDAQ: COIN) looks like a good candidate right now — because the risk is too great for my blood. Buying puts is a more "conservative" option.
But what you need to know is this: If the stock you're shorting goes up instead of down, you can buy back the shares early to cover your position and stop the bleeding. This is called buying to cover.
And if there are lots of short sellers, this causes the infamous short squeeze, as the stock price increases exponentially because so many short sellers buy back stock to cover their short positions.
The Big Short Squeeze
This happened early last year with Blue Apron (NYSE: APRN). After going public in 2017 at around $140, the stock got absolutely hammered and was trading in the $2 range in March 2020.
Short sellers piled in because they thought the company was going bankrupt. In fact, 48% of the stock's float (the number of tradable shares available to the public) was sold short at the time.
But then came the coronavirus...
Restaurants and bars closed, and people were staying at home ordering meal delivery kits.
So investors started betting long Blue Apron and the stock went up, which caused the shorts to cover their positions... triggering a short squeeze.
Blue Apron shares launched 345% in one week, ultimately rising from a low of $2.10 to a high of $16.25 in March...
Shares have since trended down and will probably stay there, but this was just a preview of what was to come...
You'll Never Be On The Inside!
Join Outsider Club today for FREE. You'll learn how to take control of your finances, manage your own investments, and beat "the system" on your own terms. Become a member today, and get our latest free report: "Investing in Marijuana Stocks: Investing Without Getting Burned."

After getting your report, you'll begin receiving the Outsider Club e-Letter, delivered to your inbox daily.
Meme Stocks
Next it was GameStop (NYSE: GME). Users of the website Reddit (an online forum) caught on to the possibility of manipulating the market by creating memes (humorous images or videos usually accompanied by some catchy text) about stocks and then buying up shares...
But the genius behind these trades is that Redditors targeted stocks with heavily shorted floats, thereby forcing short sellers and the hedge funds behind them to buy back stock to cover their shorts.
Just look at the havoc they wreaked...
Then AMC (NYSE: AMC) went along for the ride...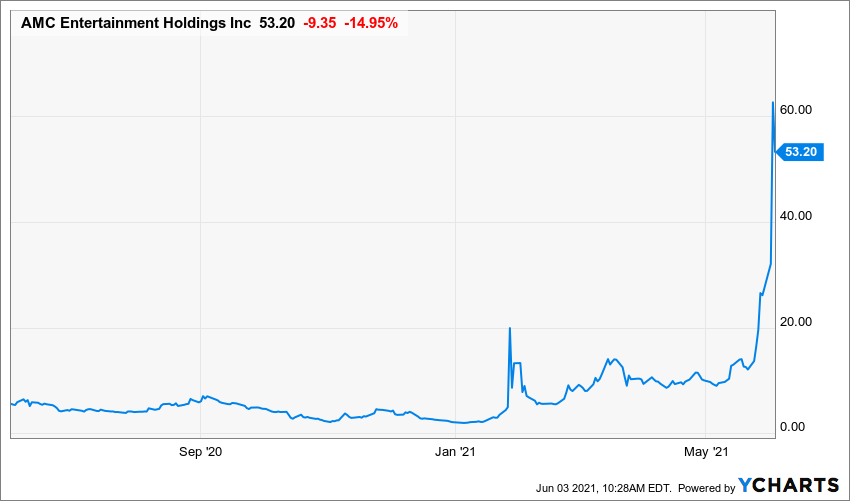 You can see the explosive upside potential of short squeezes. And they've made investors fortunes.
As we speak, there's one industry hedge funds are shorting again... legal marijuana. And now is the time to get in.
Three Cannabis Comeback Stocks
I began trading in and out of cannabis stocks in 2018 but didn't really know where to look.
What I needed when I started investing in pot was someone on the inside with boots on the ground... Someone I could follow who had all the industry connections and knowledge of the market.
Enter my colleague Jimmy Mengel, investment director of The Crow's Nest, who's been following the legal pot industry since 2014. I just wish I'd found him sooner.
He's led his readers to gains of 1,000%, 1,233%, and an unheard-of 3,360%. Some readers even made six figures on just one of his pot plays...
But now he's found the biggest and final opportunity in three cannabis companies for investors looking to make pot mega-profits this year.
With so many catalysts on the horizon, pot truly is about to have its "Bitcoin moment."
As pot investors, this is the moment we've all been waiting for.
Jimmy explains everything you need to know in his latest report, "America's Three Kings of Cannabis: Get Rich From the Big Pot Short Squeeze of 2021."
For immediate access, all you need to do is sign up here for your risk-free trial to The Crow's Nest.
And Jimmy is so confident you'll love his service that he's offering a six-month money-back guarantee.
So if you want to join Jimmy's crew of retail investing pirates on their latest Wall Street raid, just click here or call 1 (855) 496–0830 for the full details.
Crypto Update
I'm seeing some eerie activity in the cryptocurrency markets.
Bands of crypto holders are now forming so-called "liquidity pools" where they can sell and swap cryptos among themselves, thereby artificially inflating the price of certain coins.
Sound familiar? It should, because investment pools were used in the 1920s to inflate stock prices before the market crashed.
As explained by Burton Malkiel in A Random Walk Down Wall Street...
Generally such operations began when a number of traders banded together to manipulate a particular stock. They appointed a pool manager... and promised not to double-cross each other... At this point the pool manager had members of the pool trade among themselves... These sales were recorded on ticker tapes across the country, and the illusion of activity was conveyed to thousands of tape watchers...
One famous example raised RCA stock 61 points in just four days. We all know what happened next.
I don't like this one bit.
Let's see how this plays out.
Stay frosty,

Alexander Boulden
Editor, Outsider Club
After Alexander's passion for economics and investing drew him to one of the largest financial publishers in the world, where he rubbed elbows with former Chicago Board Options Exchange floor traders, Wall Street hedge fund managers, and International Monetary Fund analysts, he decided to take up the pen and guide others through this new age of investing. Check out his editor's page here.
Want to hear more from Alexander? Sign up to receive emails directly from him ranging from market commentaries to opportunities that he has his eye on.
P.S. Hedge funds are betting billions against legal marijuana. And they're about to get the Reddit treatment... If you want to stick it to Wall Street and get in ahead of the biggest short squeeze of the decade, you need to see this.
You'll Never Be On the Inside!
So, join Outsider Club today for FREE! You'll learn how to take control of your finances, manage your own investments, and beat "the system" on your own terms. Become a member today, and get our latest FREE report: "Three Big Profit Opportunities in Solar"!
We never spam! View our Privacy Policy
After getting your report, you'll begin receiving the Outsider Club e-Letter, delivered to your inbox daily.